Our Creative Soul Southlake Instructor Team
From education and music degrees to touring musicians, our Creative Soul Music School Team of nearly 50 Instructors is dedicated to learning about your personal musical goals and helping you to achieve them. We are confident that we have the right teacher to meet your music lesson needs. Our teachers have instrument specific university degrees from prestigious music program institutions such the University of North Texas and have toured with even such big artists such as Miranda Lambert. In addition, our teachers have warm personalities and are dedicated to teaching you the style and genre of music that you want to learn.
Priscilla Gray
Drums/Guitar/Bass/Piano/Student Bands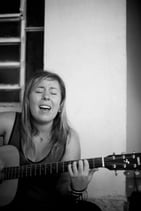 Priscilla Gray is a musician with a musical education and performance background of over 20 years. Originally from Oklahoma, Priscilla first fell in love with music through jamming out to country and oldies with her family. She was inspired to pick updrums at age 6 while watching a father and son play music together and of course... watching the movie That Thing You Do.
Her passion for music has led her to learn, play, and teach drums, guitar, piano and bands in over 40 countries.
Priscilla has made Texas her home since 2014 and is involved with local musicians and churches in the area. Her passion, whether teaching private students or bands, is to provide a way that each person is valued for who they are and is encouraged in their unique musical passions.
Priscilla joined the Creative Soul team in 2017 and is loving it!
---
Alan Turbeville
Piano/Voice/Trombone/Drums (also teaches at our Keller/Watauga Location)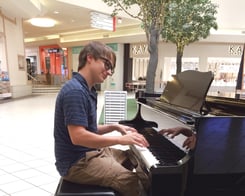 Alan Turbeville is an established musician with performance and educational experience in virtually all genres of music from blues to classical to modern pop to his specialty—jazz. He began training in piano at the age of 5, eventually taking lessons from McLennan Community College music professor Bill Howard and University of North Texas prestigious One O'Clock Lab Band alumni Richard Thomas, from whom he received much of his jazz influence. He continued his educational career at UNT, receiving a Bachelor's of Science degree in 2015 in Learning Technology with specific studies in Music Production and Sound Design and a minor in Music. Alan also completed the UNT College of Music Theory and Aural Skills requirements to become Theory Proficiency Exam (TPE) Certified. After completing his degree at UNT, Alan enrolled in Point Blank Music College in London and received accreditation (Edexcel Level 3 Certification) in Electronic Music Production and Ableton Live DAW software.

Alan has been performing in solo acts and with his twin brother, Nash, since they were 5. Alan has
expanded into venues across Texas including Austin, Dallas, Fort Worth, Denton, Paris, Tyler, and Waco.
In 2010, Alan and Nash collectively won the Student Musicians of the Year award from the Music
Association of Central Texas (MACT). The same year, the duo took first place at the "Heartland's Got
Talent" competition at the Heart of Texas Fair.

Although Alan specializes in piano, he has also been trained in voice (solo and choral work), trombone,
melodica, various percussion, music notation, and music production. He has helped lead many different
worship groups throughout Texas, particularly at Church Under the Bridge in Waco, serving for many
years as an accompanist. He has worked and still collaborates with many musicians/groups throughout
Texas, while taking in students under his wing who want to learn the same unconventional yet effective
mixture of ear training and music theory with practical piano pedagogy or any other available
proficiency of preference.
---
Natalie Hoffman
Piano/Voice/Guitar/Music Therapy Instructor (also teaches at our Keller/Watauga Location)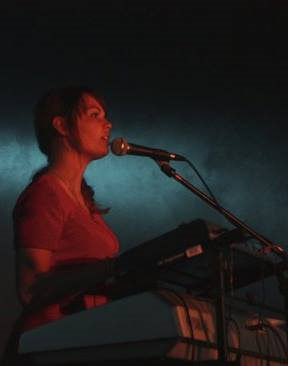 Natalie Hoffman is a musician originally from Haughton, Louisiana. She was born into a musical family and started singing at her church in multiple settings ever since she can remember. She started taking piano lessons when she was 8 years old, and eventually switched to playing flute a few years later. With 15 years of flute, 11 years of piano, and 7 years of guitar experience, Natalie gives much versatility to her music.

In May 2011, Natalie graduated from the Northwestern State University School of Music with a Bachelor's degree of Music in Flute Performance. Currently, she is studying at Texas Woman's University in Denton Texas to obtain a Master's of Music degree in Music Therapy. Her desires are to become a Board Certified Music Therapist and work with adults and children with various disabilities.
Throughout her years of undergraduate and graduate school, Natalie has almost 10 years of experience leading worship in various settings. In these settings she has sung and played flute, guitar, piano and keys, bass guitar, various percussion instruments, and accordion. She was a member of the 2007 Sound of America Honor Band and Chorus which toured for a month in six European countries. She has led worship at the Baptist Collegiate ministry at NSU, First Baptist Church of Natchitoches, First Baptist Church of Rosepine, Pine Cove Shores Summer Camps, Grace Point of Little Elm, and is currently one of the worship leaders at Christ Community Church in Denton, TX which traveled to India to put on a week-long worship conference in the city of Bangalore.
---
Devon McCauley
Violin/Mandolin/Uke/Guitar/Bass Instructor
Devon McCauley, from Burleson, Texas, is a musician specializing in old time fiddling and acoustic "Swing Rhythm" guitar accompaniment. The old time Texas style of fiddling is Devon's favorite along with Western Swing and bluegrass. From very early in his career he listened endlessly to various musicians and bands, enjoying and studying their styles and techniques. His collection of music ranges from MP3's to 78 RPM phonograph records.

His guitar studies have expanded beyond Texas style fiddle accompaniment to include swing, jazz and country music from the 30's thru the 60's. His musical influences include fiddle players such as Benny Thomasson, Norman and Vernon Solomon, Terry Morris, Herman Johnson, Orville Burns, Paul Warren, and Tommy Jackson, to name a few. His favorite guitar players include the likes of Eldon Shamblin, Billy Strange, Homer Haynes, Joey McKenzie, Royce and Ray Franklin, Omega Burden and Freddie Green.
Currently Devon plays gigs and contests around the state as well as teaching private lessons!
---
Loralee Pearman
Guitar/Flute/Voice/Piano/Little Soul Rockers Instructor
Loralee began exploring music at a very young age, as part of a musical household. She enrolled in flute lessons at the age of 4, giving her solid roots in music theory and an appreciation for classical music. Her flute lessons later led her to take part in marching band and numerous musical ensembles. Aside from her love of music, 15 years of performing and studying dance led her to discover her joy in teaching when she began to teach creative movement and ballet to young dancers. In college, she began learning guitar and writing music to match a growing passion for songwriting and acoustic folk music. Her musical pursuits led her to join a local alt pop/punk band as a vocalist, and she performed with them in the surrounding area. After graduating with a B.A. at Michigan State University, Loralee began to pursue a career as a solo musician, and released a 4 song EP "If You Were a Song". Now, she has written hundreds of songs and performs her original music in the Dallas area, while supplementing her musical education through Berklee Online where she has studied topics
such as music production and songwriting.
---
Kyle Sertner
Piano/Student Bands Instructor
Kyle Sertner is vocalist from Flower Mound, TX. He has been in music for over a decade and began studying music when he was six, singing in honor choir. At eight he became interested in different instruments, starting with the French horn, which he continued to play through high school. Kyle is currently a voice major at Collin College, specializing in classical operetta. He has performed in multiple productions in the area, from comedies such as Gulliver and Sullivan's The Mikado to intense dramas like Bizet's Carmen. Expanding beyond his classical repertoire, his passion for music has also led him to learn guitar, piano, and drums. He has also begun to acquire skills in lyric writing and song composition to various forms of dance.
---
Cydney Barnes

Voice/Ukelele/Piano
My name is Cydney Barnes. I am 26 and I will be graduating with my Bachelors in Music and Worship Ministry in December 2017. I have been singing for as long as I remember, I also play the piano, ukulele, and I've written a few songs. My favorite movie is a tie between the Avengers series and Beauty and the Beast. I really love to watch kids grow and see how they see the world around them. I think a child's imagination and creativity is a wonderful thing that should be nurtured. I can't wait to help you child use music as an outlet for their creative mind.
---
Jonathan Lowell

Voice/Guitar/Piano

Jonathan is a Singer/Songwriter from Fort Worth, Texas. Jonathan started learning guitar when he was 8 years old, and sang in choir and played in the
band all throughout high school. He started guitar because of his love of blues and folk music. He went to UNT to major in music therapy. The idea of using music to help people sounded very fulfilling to him. He worked at children's camp in Athens, Texas for two years and volunteered there countless times for the past seven years. Working at the camp instilled his love of working with kids especially in a music environment.

When Jonathan isn't playing music, he's probably watching movies! He loves film, and welcomes any movie knowledge challenges you have for him. Jonathan also has the incredible talent of being able to whistle and hum at the same time.

Jonathan loves and can respect all types of music, but his favorite to play and sing are Blues and Folk music. He has two dogs named Sassy and Ginger. Jonathan loves the idea of introducing music into kids lives. He believes music is the ultimate way a kid and express themselves, and that's important for every child's development.
"Where words fail, music speaks"
---

Jean Bougazelli
Guitar
Meet Jean Bougazelli, born and raised in Dallas, TX, he graduated from the University of Texas at Dallas in Richardson with a Bachelor's Degree in Art & Technology. Playing guitar for thirteen yearsand in local bands for about seven years in the DFW area, Jean is motivated by helping kids find their niche. Seeing student growth through music lessons truly inspires him. Being able to cater to the needs of kids and find what works for them is a joy. Jean believes "Creativity is the name of the game, and nurturing music education at an early age will only transcend when older if given the skills to succeed". Jean is excited to be on the Creative Soul Team, creating music with his students and having a fun time in the process!
---
Matthew Boden
Bass/Guitar/Drums/Student Bands
A few highlights on Matthew...Full Bio coming soon!
Bachelor's Degree in Christian Studies

Currently working on his Masters Degree in Media Arts and Worship

Timothy Award for Christ-likeness
---
Alex Lavell
Guitar/Cello
Bio Coming Soon!...
---
Antwan Altman
Sax/Clarinet/Trumpet/Piano
Bio Coming Soon!...
---
Cort Pease
Guitar/Cello/Violin/Bass/Drums/Mandelin/Ukelele
Bio Coming Soon!...
---
Erica Rosemand
Voice/Piano
Bio Coming Soon!...