Creative Soul School of Music offers music lessons to kids and adults in Fort Worth. Our Fort Worth location offers all kinds of music lessons such as guitar lessons, voice lessons, drum lessons, bass guitar lessons, voice lessons, piano lessons, violin lessons & more! If you live in Fort Worth or in the Fort Worth area and you want to learn an instrument, Creative Soul is a great place for you! Come join our community of growing musicians.
Music Fun in Fort Worth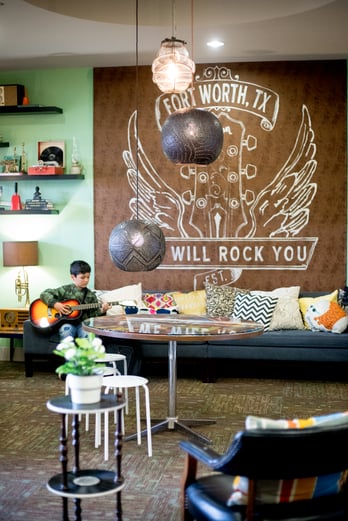 We love having a location in the Dallas/Fort Worth metro because there's such a brilliant music scene for kids here. Here are some kid-friendly festivals and events with live music your family might enjoy:
We also offer the kids at our school a ton of opportunities to perform for friends, parents, aunts, uncles, brothers, and sisters during the course of their study program with us. We have an in-house performance venue at the school that makes it possible.
Kid-Friendly Fun in Fort Worth
Another reason we love our Fort Worth location is the number of cool, kid-friendly activities there are within just a few minutes of our location. We wanted to share these resources with you so you could enjoy all kinds of family fun.
All of these activities are within fifteen to twenty minutes of Creative Souls.
Our Fort Worth location features:
A spacious, comfortable parent's lounge with WiFi

Large observation windows on every door, allowing you to watch as your children learn

One of DFW's most established rock band programs

Convenient hours to fit every schedule
Contact Us
5236 S Hulen, Fort Worth, TX 76132
Tel. (817) 677-8506
Directions
Click here for Google maps
Located near the intersection of Bryant Irvin and Hwy 20 next to Guitar Center, Joanne Fabrics and Crafts, Lonestar Gymnastics! We're also very close to the Barnes and Noble, a Hobby Lobby, and an Old Navy. Want to get your shopping done while your kids are learning? This is just a small sampling of the retail locations we're close to as we're located in a major shopping center.
Want to take the bus? Our nearest stop is #2821 served by busses 6 and 32.
Instructors
We have a wonderful staff of amazingly talented musicians working at out Fort Worth location. Check out their bios.
Hours of Operation
Monday – Friday 8am – 9pm
Saturday 8am – 7pm