Drum Lessons
Drum lessons teach students the know-how of what it takes to be an accomplished drummer. Drum lessons target rhythm as the foundation of any good band. We also work on coordination and technique so that our students can advance through many rudiments and polyrhythms.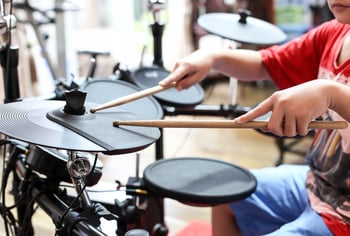 It is our goal to have every drummer try our band program and learn other styles of music while performing. These opportunities are exciting for our students, and help them see the benefit to practicing as well as connecting with other musicians.
Creative Soul Curriculum
Reading Drum Tab, Rudiments and Technique

Students start with the songs they love

We break down each part and simplify it so that they can accomplish their goals

Goal Setting will be unique to their gifts and talents.

Songwriting and Composition
Step 1: Choose your Class
Ages 3 through Adult - One-on-one Instruction.
Ages 4 through Adult - Class with 2-3 students. Price per student.
Student + Parent Instruction - Parents join in the learning fun!
Step 2: Choose your Location
5236 S Hulen, Fort Worth, TX 76132
(817) 677-8506
5633 Watauga Rd.Watauga, Texas 76148
(817) 485-7464
280 Commerce Southlake, Texas 76092
(817) 764-1074
Step 3: View your Tuition