PERFORM
AT LEGENDARY VENUES
or our own private venue for family and friends
WIN TROPHIES
AND WRIST BANDS
for achievement to inspire you to grow faster
AWARD WINNING
TEACHERS
that give you a step by step, super fun way to learn music
UNLIMITED
MAKEUPS
to help you when your schedule gets busy
BONUS:
UP TO 40+ HOURS OF INTERACTIVE CLASSES
to help you learn to play amazingly and overcome roadblocks
Drum Lessons in Dallas-Fort Worth


Drum lessons teach students the know-how of what it takes to be an accomplished drummer. In these lessons, students learn rhythm, which is the foundation of any good
band. We also work on coordination and technique so our students can advance through many rudiments and polyrhythms.
Our goal is to have every drummer try our band program and learn other styles of music while performing. These opportunities are exciting for our students and help them see the benefit to practicing, as well as connecting with other musicians.
---

---
Where We Offer Drum Lessons in Dallas-Fort Worth
We have 3 Creative Soul School of Music locations in the Dallas-Fort Worth area where students (kids & adults) can come learn how to play drums.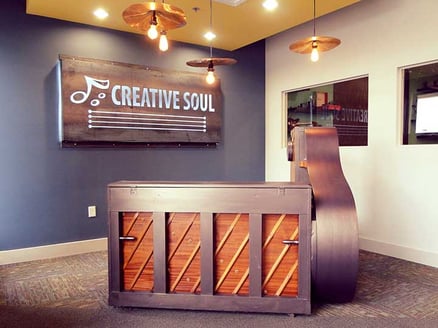 5236 S. Hulen
Fort Worth, TX 76132
(817) 677-8506 or (817) 677-8506

We provide drum lessons for students, families & adults in Fort Worth and these nearby cities:
Forest Hill
Kennedale
River Oaks
Westover Hills
Lake Worth
Haltom City
Saginaw
Primrose
Crowley
Benbrook
Aledo
Arlington
Argyle
Burleson
White Settlement
Check Out Our Fort Worth Location Video Tour
---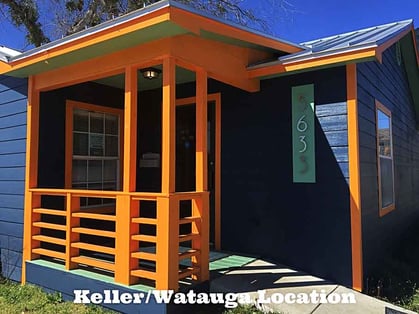 5633 Watauga Rd.
Watauga, TX 76148
(817) 485-7464 or (817) 485-7464


We provide drum lessons for students, families & adults in Keller Watauga and these nearby cities:
North Richland Hills
Haltom City
Hurst
Bedford
Saginaw
Melody Hills
Richland Hills
Haslet
---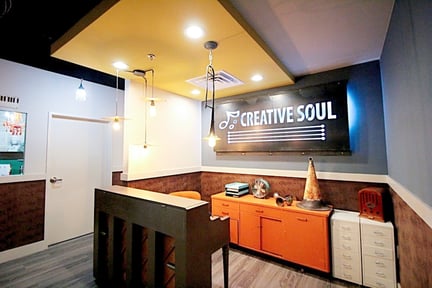 280 Commerce St. #195
Southlake, TX 76092
(817) 764-1074 or (817) 764-1074


We provide drum lessons for students, families & adults in the Southlake & Grapevine area and these nearby cities:
Trophy Club
Grapevine
Roanoke
Westlake
Colleyville
Euless
Irving
Bedford
Hurst
---
How Our Drum Lessons Work
Beginners in Our Drum Lessons Learn:
To read drum tab, rudiments and technique
To play songs they love
To play songs, broken into parts, to simplify the song so students can accomplish their goals
Goal setting that is tailored to each student based on their unique set of gifts and talents
Songwriting and composition


From here, they can play in our group classes called our Student Bands. Performing as a group is an important part of the accountability process, as well as just having a blast.
In the past, there was a "no pain, no gain" philosophy regarding drum technique. But thanks to physical medicine and the study of ergonomics that philosophy is no longer valid with drum technique. Creative Soul instructors have been trained to use a contemporary technique that facilitates good development while playing all styles of music.
---
Performing What You Learn from Drum Lessons
Being able to perform is a big part of sharing a special skill that students have developed. It takes practice and we want to reward and recognize our students. We have free twice-a-year recitals for all of our students at such acclaimed venues like the McDavid Studio at Bass Hall and various other performance opportunities for our group class students at venues like the WoodShed SmokeHouse on the river, Central Market & TV-Famous Chef Pointe, for the students to jump into.
---
How to Get Started with Drum Lessons at Creative Soul
Step 1: Choose Your Class
Step 2: Choose Your Location
Step 3: View Your Tuition
---

Meet Our Drum Instructors
We have lots of great drum instructors for your drum lessons. Learn more about each one, their background, their goals for teaching, and what they teach at Creative Soul School of Music in DFW.
---
What Our Drum Music Students Have to Say About Us
"My kids look forward to going to their lessons every week. My daughter is taking drum lessons and Brady has truly brought out the musical rocker girl talent that she has. My youngest is in the Lil Soul's music class and gets exposure to many instruments. We are treated like family and love this environment."
Mellorna Johnson
"My son attends Creative Music School in Watauga. He takes drum lessons there. Staff is always so friendly and helpful. Also provides a comfortable environment/atmosphere for parents and kids while waiting on lessons to start to finish."
Jessica Arellano


"Creative Soul Music School Fort Worth rocks! Our 7-year-old son always has a wonderful time in his private drum lessons! We LOVE his teacher, Johnny. He is very encouraging while still challenging our son to consistently perform at his best. Our son enjoys practicing and looks forward to his lessons every week! All of the teachers and staff are very friendly and make Creative Soul a great place to be!"
Amber Woods
---
Types of Drums to Purchase for Drum Lessons


If you are new to playing the drums and attending drum lessons, or if you are looking for something different, check out these drums online or at a nearby Guitar Shop.
Best Drums for Your Budget
Under $1,500

Pearl Standard Drum Set (Acousitc)

Gretsch Energy 5-Piece Drum Set with Hardware and Zildjian Cymbals (Ruby Sparkle)


Under $750

Roland Electric Set (Electric)

Yamaha Stage 5pc Drum (Acoustic)


Under $500

Donner Electric Drum Set (Electric)

Alesis Nitro Mesh Kit (Electric)

Yamaha Electronic Drum Set (Electric)


Learn more about the best drum sets for your budget and whether to go with an electric or acoustic drum set.
---
Popular Blog Articles for Drummers

Many of us enjoy reading or writing books, practicing and playing a sport, or even mastering or inventing ideas you have. In doing so, you are able to release the ability and the drive to move forward in life through the gift of creativity. This also releases the ability to change your feelings, your mood and your outlook on life and the individuals you interact with. And so it can be with music.
---
Whether you've been playing an instrument your whole life or are just getting started you know how valuable honing a skill like this can be. This ranking of popular instruments is based on several factors, like: ease of playing, cost, versatility of the instrument, and career opportunities. Which instrument do you want to play?
---
As parents, most of us want our children to learn how to play a musical instrument. There's an abundance of research that shows how valuable being involved in music can be for a child. But how do we help our children pick the right instrument? Pick it for them? Let them pick? We've found some great suggestions from expert musicians on which instrument a child should play based on their personality and physical characteristics.
---
Music affects us much more than simply changing our moods. We've written in the past about some of the effects music has on the brain, and today we'll dive a little deeper into that topic - more specifically on how music reduces stress.
---
While most parents are ecstatic about their kids finding a hobby, such as music lessons, the price of musical instruments can kill that enthusiasm very quickly. Depending on the instrument your child wants to play, it could cost you anywhere from fifty dollars to several thousand. Here are some alternative options to help your pocketbook.