Drum Percussion Lessons
Drum lessons teach students the know-how of what it takes to be an accomplished drummer. Drum lessons target rhythm as the foundation of any good band. We also work on coordination and technique so that our students can advance through many rudiments and polyrhythms.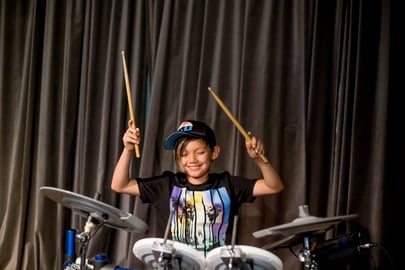 It is our goal to have every drummer try our band program and learn other styles of music while performing. These opportunities are exciting for our students, and help them see the benefit to practicing as well as connecting with other musicians.
Students will learn concepts such as:
Reading Drum Tab, Rudiments and Technique

Students start with the songs they love

We break down each part and simplify it so that they can accomplish their goals

Goal Setting will be unique to their gifts and talents.

Songwriting and Composition
They can play in our group classes called our Student Bands. Performing as a group is an important part of the accountability process as well as just having a blast.
Healthy Drum Practice
In the past, the was a "no pain, no gain" philosophy regarding drum technique. But thanks to physical medicine and the study of ergonomics that philosophy is no longer valid with drum technique. Creative Soul instructors have been trained to use a contemporary technique that facilitates good development while playing all styles of music.
Performing
Being able to perform is a big part of sharing a special skill that students have developed. It takes practice and we want to reward and recognize our students. We have free twice a year recitals for all our students at such acclaimed venues like the McDavid Studio at Bass Hall and various other performance opportunities for our group class students at venues such as the Wood Shed Smoke House on the river, Central Market, & TV famous Chef Pointe for the students to jump into.
Best Drum Sets for Your Budget
If you are new to drum lessons or are looking for something different, check out these affordable drum sets options. Learn About Each One
Step 1: Choose your Class
Ages 3 through Adult - One-on-one Instruction.
Ages 4 through Adult - Class with 2-3 students. Price per student.
Student + Parent Instruction - Parents join in the learning fun!
Step 2: Choose your Location
5236 S Hulen, Fort Worth, TX 76132
(817) 677-8506
5633 Watauga Rd, Watauga, Texas 76148
(817) 485-7464
280 Commerce St #195, Southlake, Texas 76092
(817) 764-1074
Step 3: View your Tuition