7 Best Drum Sets for Your Budget
Do you or your child want to begin drum lessons? Whether you are a beginning drummer or an experienced drummer looking to buy a new drum set or drum kit, our DFW music instructors have compiled this amazing list of their top 7 electric and acoustic drum kit recommendations that are best for your budget.
7 Best Drum Sets for Your Budget
1. Pearl Standard Drum Set (Acoustic Drum Kit Under $1,500)
2. Gretsch Energy 5-Piece Drum Set (Acoustic Kit Under $1,500)
3. Roland Electric Set (Electric Drum Kit Under $750)
4. Yamaha Stage 5-Piece Drum Set (Acoustic Kit Under $750)
5. Donner Electric Drum Set (Electric Drum Kit Under $500)
6. Alesis Nitro Mesh Kit (Electric Kit Under $500)
7. Yamaha Electronic Drum Set (Electric Kit Under $500)
All of these budget-friendly drum kits can be purchased online and shipped directly to your home!
Keep reading to learn more about each drum set, their benefits & features, what level of experience you should have to play them and how they fit within your budget. Then hop on by to one of our 3 music school locations to start your drum lessons. We have drum lessons for kids and adults in Fort Worth, Keller-Watauga & Southlake-Grapevine (Texas).
How Do I Know Which Drum Set to Buy as a Beginner?
Before we go into more detail about each of the budget drum sets on our list, there are a few Key Concepts to know when purchasing a drum kit:
Durability vs. Affordability

Playing the drums is great for kids and adults alike. We'd recommend any of the electric drum kits for your 3 - 5-year-old beginning drummers.
Best Drum Sets Under $1,500
1. Pearl Standard Drum Set (Acoustic)
The Pearl Standard Drum Set is a great option for beginning and experienced drummers. The Pearl is a five-piece set - although this set gives you the option of including the cymbals and sticks, when available.
What Others Are Saying:
Zig
5.0 out of 5 stars
These Pearl Export drums are the best bang for your buck. I would consider these to be mid-level drums, not entry-level.
These are very good quality drums. They are made in China, but the shells are manufactured very well, and sound nice. For most applications, the shells and the sound should be fine. If I was recording in a studio, perhaps better drums would make sense. For jamming in my home or playing small gigs, these drums are perfectly fine.
2. Gretsch Energy 5-Piece Drum Set
The Gretsch drum set is another five-piece set and has three different color options to choose from. Gretsch is a trusted brand by our Texas drum teachers and this drum kit is perfect for both beginners and more experienced drummers.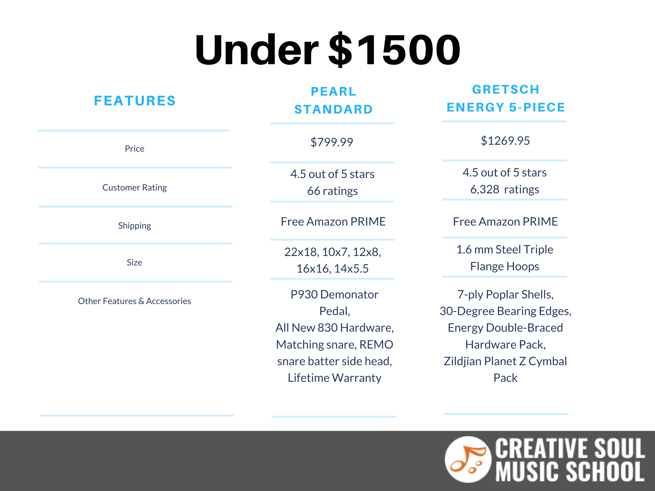 Best Drum Sets Under $750
1.
Roland Electric Set (Electric)
The Roland Electric Set is our #1 choice at Creative Soul Music School for electric drum sets. This is the top electric drum kit on the market and the most durable by far.
What Are the Benefits of the Roland Electric Drum Set?
Drum kit comes with Kick, Snare, Hi-hat, Hi-hat control pedal, Tom x 3, Crash, Ride and Drum stand.
Size (including sound module, kick pad, kick pedal and drum throne): 47-¼" W x 43-5/16" D x 47-¼" H | Weight: 17.8 kg
Dual-ply mesh heads with tension adjustability for a quiet and realistic drumming experience
Built-in metronome with adjustable tempo and timing settings to help improve timing
256 notes of polyphony
15 preset drum kits with authentic, expressive drum sounds for accurate and true-to-life drumming
What Others Are Saying:
MD
5.0 out of 5 stars
Roland is the first name in electronic drums. I have owned many drum kits - both acoustic and electronic. I purchased this kit, as I will soon be moving into an apartment and can no longer terrify my neighbors with my regular acoustic kit.
If you are looking for electronic drums to cut down on the noise, and you are on a budget, this is the kit to get. The mesh pads have the same feel as a regular acoustic drum kit. (The solid rubber pads of other electronic kits have too much stick bounce). All the drums are double triggered, which means you can do rim shots and they are also sensitive to how hard you hit the drum. The cymbals are also chockable, so you can silence them with a hand grab.
2.
Yamaha Stage 5pc Drum (Acoustic)
The Yamaha Stage 5pc Drum Set is the second best choice for drum sets from our amazing instructors. The Yamaha drum kit comes in a variety of colors, which our Creative Soul students love. This is an economically good five-piece drum set you can buy online.
What Others Are Saying:
Terry Parr
5.0 out of 5 stars
Never ordered a drum set from Amazon before. It arrived in a timely fashion. The box had a little dent in it but the drums were fine.
I have been playing these for a few weeks now...and all I can say is wow. Yamaha knows how to make drums (I can see why many top players prefer Yamaha). They are amazing. The birch wood gives a nice tone. The mounting toms and leg toms are top notch. I love the honey amber color so much!
This is an amazing set for the price. It's great for jazz-metal. Just replace the drum heads for the tones you are needing. I recommend Aquarian or Evans.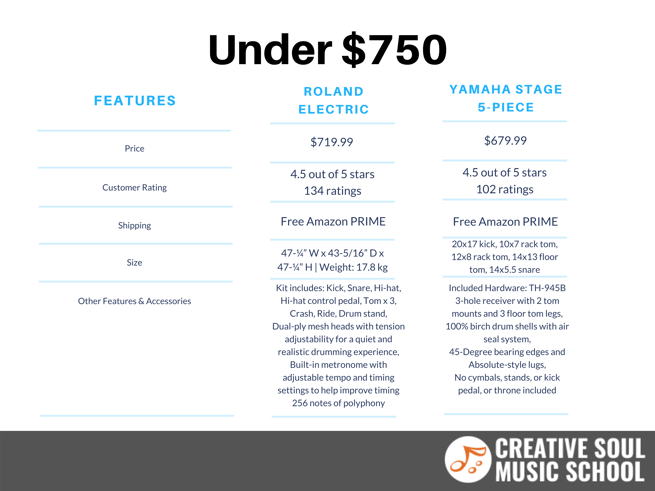 Best Drum Sets Under $500
1. Donner Electric Drum Set (Electric)

The Donner electronic drum set has a great realistic sound and is perfect for practicing drums. This drum kit comes with a mesh head eight piece, drum throne, sticks, headphone, and audio cable. It is ideal for both beginning drummers and seasonal drummers.
What Others Are Saying:
ICO MEDIA
5.0 out of 5 stars
Excellent beginner kit! The brain is simple to use and is loaded with good sounds. The feel of the mesh heads are great and are of excellent quality. The frame is robust and will hold the weight of playing and traveling well.
This is a complete kit right out of the box. Sticks and headphones are included along with all the hardware you need. They even include the tools you need for the bass drum stand.
2. Alesis Nitro Mesh Kit (Electric)
The Alesis mesh electronic drums is the more economical choice and is perfect when starting out. This set is an eight-piece configuration and has a lightweight design.
What Others Are Saying:
Joe Suarez
5.0 out of 5 stars
Great starter kit, super quiet
I bought this kit two months ago. The kit is a lot of fun to use and is super quiet. My family sleeps through it even with no insulation in the walls. I use ear buds and when no one's around I use a ddrum DDA50 amplifier, which sounds awesome.
All the voices in the kit let me tune it to where it sounds like the acoustic kit my instructor uses. The mesh pads can also be adjusted so you can change the feel of the drum head. I can send the output to my computer and record it with audacity so I can make multiple tracks for practicing duets.
I definitely recommend this as a starter kit when you don't have a place to practice, such as an apartment or a house completely filled with tile.
The Yamaha electronic drum set is another great option both musically and economically. This drum kit also has built-in modules and interactive training to help improve on rhythm and speed.
What Others Are Saying:
thebull70
5.0 out of 5 stars
Awesome drum set even for beginners!
My wife and I ordered these drums for our 8-year-old son and he loves them. I set them up and he figured out how to attach them to his drum amp and use all the functions all by himself. My wife loves them because he can also play them with his headphones and they take up way less space than his old standard drum set. The sound quality is also very good. Definitely worth the month spent.