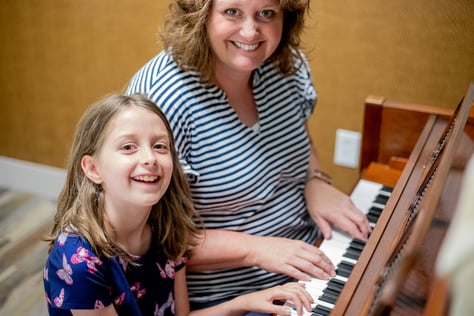 The Creative Soul Music School of Music Keller Watauga location offers exceptional music lessons for an array of music lessons. What instrument does your child want to learn? Guitar, piano, voice, drums, bass guitar, or violin? Whatever instrument your children want to learn, Creative Soul in KellerWatauga has an instructor and a lesson plan for you.
Our Keller Watauga Location features:
Convenient hours to fit every schedule.

Fun, engaging & professional Faculty team of music teachers who love music and care about your kids.

Lots of awards to celebrate achievement.

Performance opportunities at amazing local venues including Bass Hall & The Palace.

Fun and laughter every day your child comes to class.

Large observation windows on every door, allowing you to watch as your children learn
Stop by to meet our Soul Team, tour our facilities, and become a part of our Creative Soul Family.
Music Lessons & Classes Offered: Piano - Guitar - Voice - Singing - Violin - Drums - Bass - Trumpet - Saxophone - Clarinet - Ukulele - Makin' Music (0-3yrs) - Lil Soul Music Class (4-6 yrs) - Student Bands (7 and up) - Music Camps & More!
Other: Trumpet, Percussion, Ukelele, Flute, Group Band & Group Music Classes

Contact Us
Creative Soul Music School Keller / Watauga
5633 Watauga Rd, Watauga, TX 76148
Tel. (817) 485-7464
Directions
Click here for Google maps
Located near the intersection of Watauga Rd and 377. We're in the Big Blue Building next to Pam's All Breed Pet Grooming. You can't miss it!
Our Faculty
We are so proud of all of our team of Music Teachers. They are experienced, engaging & professional teachers & talented musicians. Meet our Faculty!
Hours of Operation
Mon – Friday: 8am - 9pm
Sat: 8am – 7pm
Music Fun in Keller Watauga
One reason we really love having a location in Keller Watauga is there are some great opportunities for local kids to experience live music. It's important for kids to hear other people play live as well as to experience the joys of performing themselves. Here are a couple of examples.
Of course, we have our own in-house performance venues which allow you to hear your kids as they play live. Bring family friends, aunts, uncles, cousins and more as your kids tear up the stage and experience the joys of playing for a crowd. Performing boosts confidence and helps to inspire a lifelong love of music, which is why we give kids lots of opportunities to participate.
Kid-Friendly Fun in Keller Watauga Area:
Another reason we love our cozy Keller Watauga location is the amount of kid-friendly fun activities located just minutes away from our music school. We love to support families, and that means finding cool ways to spend time together. That's why we're offering up this list of resources.
Whites Branch Park is just down the street from our location.

Bring kids to

Mountasia Family Fun Center

for a great amusement park experience.

Take the kids out for a tropical treat at

Bahama Bucks

.
All of these activities are ten minutes away, or less.