PERFORM
AT LEGENDARY VENUES
or our own private venue for family and friends
WIN TROPHIES
AND WRIST BANDS
for achievement to inspire you to grow faster
AWARD WINNING
TEACHERS
that give you a step by step, super fun way to learn music
UNLIMITED
MAKEUPS
to help you when your schedule gets busy
BONUS:
UP TO 40+ HOURS OF INTERACTIVE CLASSES
to help you learn to play amazingly and overcome roadblocks
Guitar Lessons in Dallas-Fort Worth
Are you looking for adult or kids guitar lessons in Fort Worth, Keller-Watauga or Southlake-Grapevine? At Creative Soul Music School, we offer acoustic, electric & bass guitar lessons at all three of our DFW locations.
Our guitar classes take our students through popular and modern techniques to learning tabs, chords and harmony, songwriting and composition, as well as music production.
Our guitar instructors use modern songs and creative techniques to help our young beginners or any struggling learner learn to play guitar. They will adjust a modern arrangement and accompany their students in their guitar learning so they will be inspired and interested in playing music.
---

---
Where We Offer Guitar Lessons in DFW
We have 3 Creative Soul Music School locations in the Dallas-Fort Worth area: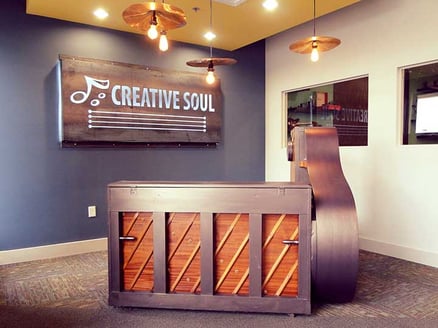 5236 S. Hulen
Fort Worth, TX 76132
(817) 677-8506
We provide guitar lessons for kids and adults in Fort Worth and these nearby cities:
Forest Hill
Kennedale
River Oaks
Westover Hills
Lake Worth
Haltom City
Saginaw
Primrose
Crowley
Benbrook
Aledo
Arlington
Argyle
Burleson
White Settlement
Check Out Our Fort Worth Location Video Tour
---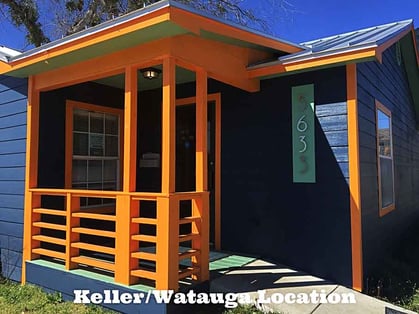 5633 Watauga Rd.
Watauga, TX 76148
(817) 485-7464
We provide guitar lessons for kids and adults in Keller Watauga and these nearby cities:
North Richland Hills
Haltom City
Hurst
Bedford
Saginaw
Melody Hills
Richland Hills
Haslet


---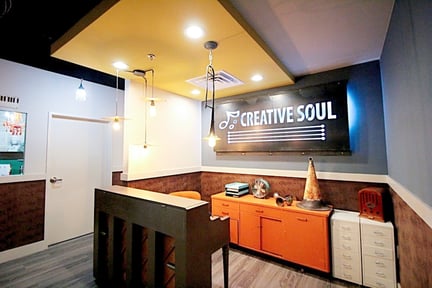 280 Commerce St. #195
Southlake, TX 76092
(817) 764-1074
We provide guitar lessons for kids and adults in the Southlake & Grapevine area and these nearby cities:
Trophy Club
Grapevine
Roanoke
Westlake
Colleyville
Euless
Irving
Bedford
Hurst


---

How Our Guitar Lessons Work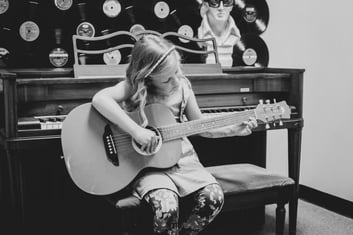 What Will I Learn in Beginner Guitar Lessons (Kids & Adults)?
First position chords
Picking
Strumming
Scales
Arpeggios
Popular music
What Will I Learn in Intermediate & Advanced Guitar Lessons (Kids & Adults)?
To play in our band program
Move up through our next level of skills
Songwriting and composition techniques as they advance


Additionally, all students learn about healthy guitar practice during their music lessons. In the past, there was a "no pain, no gain" philosophy regarding guitar technique. Thanks to physical medicine and the study of ergonomics, that philosophy is no longer valid when it comes to learning guitar.
Creative Soul guitar instructors in Dallas-Fort Worth have been trained to use a contemporary technique that facilitates good development while playing all styles of music on guitar.


What Age Should I Start Guitar Lessons?
While the age you start guitar lessons depends on your focus, generally we recommend starting at 5 years old or older. And when it comes to age, it's never too late to start!
---
Will I Get to Perform What I Learn from Guitar Lessons?
Being able to perform is a big part of sharing a special skill that our students have developed in their guitar lessons. It takes practice and we want to reward and recognize our students.
We have free, twice-a-year recitals for all of our music students at such acclaimed Dallas-Fort Worth music venues like the McDavid Studio at Bass Hall and various other performance opportunities for our group class students at venues like the WoodShed Smokehouse on the river, Central Market and TV-famous Chef Pointe. They can also play in our group music classes called our Student Bands.
---
How to Get Started with Guitar Lessons at Creative Soul Music School
Step 1: Choose Your Class
Step 2: Choose Your Location
Step 3: View Your Tuition
Learn more about how much guitar lessons cost in the Fort Worth area at each of our 3 music schools:
---
Meet Our Guitar Instructors
We have lots of great guitar instructors for your guitar lessons. Learn more about each one, their background, their goals for teaching, and what they teach at Creative Soul School of Music in DFW.
Learn More About Our Awesome Team
---
What Our Guitar Music Students Have to Say About Us
"My son Alex started here at about age 11. They really had an impact on him. He still plays. Right now, he's into street BMX but I hear the guitar from his room a lot. I can't say enough about how great Creative Soul is."
Amy Curnutt
"I am so impressed with Creative Soul Music School. My grandson wants to learn the guitar but I have no clue where to start. They have been so encouraging and welcoming. The personal touches through emails and text messages have been a huge support. So grateful to be on this journey with them. Thank you, Creative Soul Music."
Dawn Arrington
"Creative Soul is a fantastic place to go! They have top-notch instructors and are very welcoming. My granddaughter takes voice and guitar lessons and absolutely loves it. Stop in and check them out; you will be so happy you did!"
Gail Gross
---
Types of Guitars to Purchase for Guitar Lessons
If you are a beginning guitar student taking guitar lessons in Fort Worth or are looking for a new guitar, here are guitars to buy online or purchase at local guitar shops in Fort Worth.
Best Guitars for Your Budget
Under $500

Fender CD-60SCE Solid Top Dreadnought Acoustic-Electric Guitar
ESP LTD EC-256 Electric Guitar, Black
Fender Malibu Player Acoustic Guitar



Under $300

Fender Squier Short Scale (24") Stratocaster
Donner 39 Inch Electric Guitar Beginner Kit
Fender CD-60 Dreadnought Acoustic Guitar

Under $100

Best Choice Products 41in Acoustic Guitar Starter Set
LyxPro 39" Electric Telecaster Guitar
Master Play 38" Wood Guitar With Case and Accessories
---
Popular Blog Articles for Guitarists
At first glance, it may not seem like you need that much to learn how to play guitar. You just need a guitar...right? Well, sure. But you might find that other equipment and accessories are very useful while you go!
---
Maybe your kid is starting music lessons, or maybe you are trying to learn a new hobby yourself. If you are looking for a musical instrument of any kind, there are plenty of places to purchase one in the Dallas/Fort Worth area.


---
Acoustic guitars are beautifully made instruments. Each one has a unique sound and structure. To keep its originality, it's important to keep your acoustic guitar in prime condition. If you have an acoustic guitar, or are thinking about purchasing one, check out the tips below!
---
Learning to play guitar can be a challenge. There's a lot to figure out in the beginning, and it may not be as easy as you had anticipated. You'll first learn how to play functionally - it may not sound pretty, but you'll get there!
After getting the hang of how to play - maybe you've learned a few key chords - you can start to practice songs!
---
Learning an instrument as an adult is always in the "Top Ten Bucket Lists" for most, and there is a reason why. Learning an instrument can be fun and rewarding for the rest of your life. The time you spend on learning an instrument can give you a return on your investment 10x what you put into it.
---
Do you have an aspiring musician in your home? Choosing which instrument to play can actually be a big challenge! For instance, two instruments - the guitar and bass - are quite similar. What makes them different? Is one easier to learn than the other?


---
Everyone learns differently. While the end goal may be the same for many children (to learn and practice a musical instrument), they may not reach that goal in the same way. Take a look at the different ways people can learn an instrument, and how that incorporates people's different styles of learning.
---
It's exciting to start learning how to play a new instrument. You get to pick and buy an instrument, meet an instructor and start to learn the basics. But after the initial enthusiasm, you quickly realize that learning an instrument requires practice. Sometimes practicing is enjoyable, but it can be hard to know where to start. Take a look at some easy tips to begin.