PERFORM
AT LEGENDARY VENUES
or our own private venue for family and friends
WIN TROPHIES
AND WRIST BANDS
for achievement to inspire you to grow faster
AWARD WINNING
TEACHERS
that give you a step by step, super fun way to learn music
UNLIMITED
MAKEUPS
to help you when your schedule gets busy
BONUS:
UP TO 40+ HOURS OF INTERACTIVE CLASSES
to help you learn to play amazingly and overcome roadblocks
Violin Lessons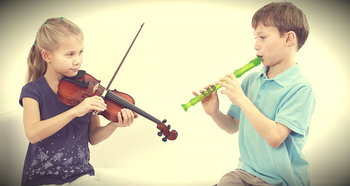 We offer Violin lessons for students ages 3 years to adult. Though we specialize in teaching beginner violin lessons our instructors move students through intermediate and advanced levels quickly. We offer both traditional Fiddle and Suzuki style instruction. Whether you want to play "Devil went down to Georgia" or a Bach Sonata, we will help you reach your goals.
Our violin lessons focus on reading, technique, ear training and songs. Here's our Violin Curriculum below.
Technique- learning posture and bow grip, arm posture, finger placement and intonation.

Reading-- Notation and tab

Ear Training--recognizing loud and soft, intervals, chord changes

Instrument Care--Tuning etc

Songs
Healthy Violin Practice
In the past, the was a "no pain, no gain" philosophy regarding violin technique. But thanks to physical medicine and the study of ergonomics that philosophy is no longer valid with violin technique. Creative Soul instructors have been trained to use a contemporary technique that facilitates good development while playing all styles of music.
Performing
Being able to perform is a big part of sharing a special skill that students have developed. It takes practice and we want to reward and recognize our students. We have free twice a year recitals for all our students at such acclaimed venues like the McDavid Studio at Bass Hall and various other performance opportunities for our group class students at venues such as the Wood Shed Smoke House on the river, Central Market, & TV famous Chef Pointe for the students to jump into.
Step 1: Choose your Class
Ages 3 through Adult - One-on-one Instruction.
Ages 4 through Adult - Class with 2-3 students. Price per student.
Student + Parent Instruction - Parents join in the learning fun!
Step 2: Choose your Location
5236 S Hulen, Fort Worth, TX 76132
(817) 677-8506
5633 Watauga Rd, Watauga, Texas 76148
(817) 485-7464
280 Commerce St #195, Southlake, Texas 76092
(817) 764-1074
Step 3: View your Tuition