Violin Lessons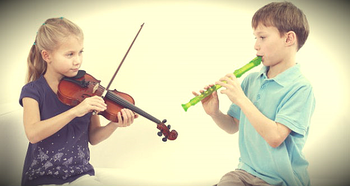 We offer Violin lessons for students ages 3 years to adult. Though we specialize in teaching beginner violin lessons our instructors move students through intermediate and advanced levels quickly. We offer both traditional Fiddle and Suzuki style instruction. Whether you want to play "Devil went down to Georgia" or a Bach Sonata, we will help you reach your goals.

Our violin lessons focus on reading, technique, ear training and songs. Here's our Violin Curriculum below.
Creative Soul Curriculum
Technique- learning posture and bow grip, arm posture, finger placement and intonation.

Reading-- Notation and tab

Ear Training--recognizing loud and soft, intervals, chord changes

Instrument Care--Tuning etc

Songs
Step 1: Choose your Class
Ages 3 through Adult - One-on-one Instruction.
Ages 4 through Adult - Class with 2-3 students. Price per student.
Student + Parent Instruction - Parents join in the learning fun!
Step 2: Choose your Location
5236 S Hulen, Fort Worth, TX 76132
(817) 677-8506
5633 Watauga Rd.Watauga, Texas 76148
(817) 485-7464
280 Commerce Southlake, Texas 76092
(817) 764-1074
Step 3: View your Tuition