How Parental Involvement Enriches Student Learning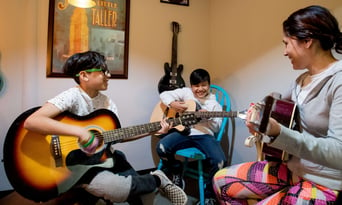 At Creative Soul, our one of a kind "Add A Parent" Music Lesson Program is when you as a parent, learn alongside your child, thus enriching both of your music skill sets. This builds accountability for both child and parent, and fosters the relationship through sharing the love of music together.
For ONLY $40/MONTH, you can "Add A Parent" to learn alongside your child and amp up their music lesson experience. No experience necessary in order to jump in. Our trained Faculty will be able to make it a memorable experience for you and your family for years to come!
Even More Add a Parent Lesson Benefits include: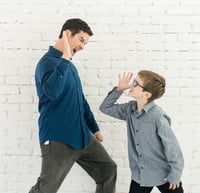 Perform together for family and friends at local top venues!

Our "Add A Parent" Private Lesson students will perform at our twice a year recitals at top venues in DFW, including Bass Hall, Will Rogers Memorial Center & The Palace Theatre. Private Family Recital Events can also be scheduled in our state-of-the-art performance stage venues in all of our locations, fully equipped with stage lighting, microphones, amps, and drum sets. Visit our full calendar for performance dates.

Climb the Musical Ladder together!

Team as a family to reach achievement goals as you commit to our lesson process and earn trophies and wristbands.

Make Memories that will Last!

No matter what age, music is something you can remember and bond
to. Create your own Soul Story with us as you adventure in your lesson journey together.
Listen to Linda & her Son Joey's Amazing Story
performing and learning Together!