Are you looking for voice & singing lessons in Keller (TX), Watauga, Fort Worth, Southlake or Grapevine? We have 3 Creative Soul Music locations in the DFW area that offer voice lessons.
Our voice lessons for kids and adults allow our students to choose their own songs to sing. Then, our voice instructors guide them based on their unique gifts and talents.
We strongly encourage students to branch out into different styles of music, including: rock, pop and classical, all while learning fundamental voice techniques. We find it important that during voice lessons students should learn to breathe correctly, create a clear tone, project and understand melody and phrasing.
We have 3 Creative Soul School of Music locations in the Dallas-Fort Worth area that offer singing lessons for kids and adults:
5236 S. Hulen
Fort Worth, TX 76132
(817) 677-8506 or (817) 677-8506
We provide voice & singing lessons for kids & adults in Fort Worth and these nearby cities:
5633 Watauga Rd.
Watauga, TX 76148
(817) 485-7464 or (817) 485-7464
280 Commerce St. #195
Southlake, TX 76092
(817) 764-1074 or (817) 764-1074


We provide voice & singing lessons for kids & adults in the Southlake/Grapevine area and these nearby cities:
Trophy Club
Grapevine
Roanoke
Westlake
Colleyville
Euless
Irving
Bedford
Hurst
---
How Our Voice Lessons Work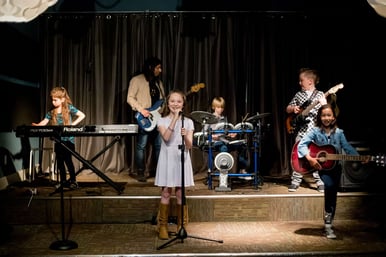 Do Singing Lessons Really Work?
Yes! Our Voice Lesson Students Learn:
To breathe correctly
Create a clear tone
Project
Understand melody and phrasing
Use different musical styles
Learn fundamentals of technique
In the past, there was a "no pain, no gain" philosophy regarding voice technique. But thanks to physical medicine and the study of ergonomics, philosophy is no longer valid with vocal technique. Creative Soul vocal coaches & instructors have been trained to use a contemporary technique that facilitates good development while singing all styles of music.


What Age Should I Start Voice & Singing Lessons?
We recommend starting voice and singing lessons by age 6 or older. However, if you want your child to do piano and voice, you could start them as early as 3 or 4 years old because the focus is more about singing along.
---
Will I Get to Sing in Performances After Taking Singing Lessons?
Being able to perform is a big part of sharing a special skill that students have developed. It takes practice and we want to reward and recognize our students. We have free twice a year recitals for all of our students at such acclaimed venues like the McDavid Studio at Bass Hall and various other performance opportunities for our group class students at venues such as the WoodShed SmokeHouse on the river, Central Market & TV famous Chef Pointe.
---
How to Get Started with Voice & Singing Lessons
at Creative Soul
Step 1: Choose Your Class
Step 2: Choose Your Location
5633 Watauga Rd
Watauga, Texas 76148
(817) 485-7464
280 Commerce St #195
Southlake, Texas 76092
(817) 764-1074

Step 3: View Your Tuition
Learn more about how much singing & voice lessons cost in Dallas-Fort Worth:
---
Meet Our Voice Instructors
We have lots of great voice instructors for your voice lessons. Learn more about each one, their background, their goals for teaching, and what they teach at Creative Soul School of Music in DFW.
---
What Our Voice Students Have to Say About Us


"Alia loves both her voice lessons and the Little Soul Rockers class. She has improved so much since she started there. Everyone there is awesome, loves music, teaching music, and working with the kids. Her classes are the highlight of her week!"
Cheryl Nurge
"Five of my grandchildren take lessons at Creative Soul Music. Two take piano, one takes voice, one violin and one drums. They love coming to Creative Soul. Every teacher is enthusiastic and encouraging. Everyone is learning and excited about it. I think we've found a home for their music education. What great joy!"
Laurie Ryan
"Our son attends voice, piano and band at Creative Soul. He loves every minute! His teachers have all been excellent and he has many opportunities to show off his skills at band gigs and recitals. We love Creative Soul!"
Jacinda Wright
---
Popular Blog Articles for Vocalists



As kids grow, they might become more interested in music - listening to it, even playing it! But are they ready for music lessons? What is a good age for them to begin music lessons? This article will help answer those questions and help you decide what action to take for your kids.
---

While most parents are ecstatic about their kids finding a hobby, such as music lessons, the piece of musical instruments can kill that enthusiasm very quickly. Depending on the instrument your child wants to play, it could cost you anywhere from fifty dollars to several thousand.
---

Learn more about our Creative Soul voice students competing at the Texas Top Ten Competition. Students competed for cash prizes and scholarships.
---
Finding inspiration can often be harder than finding rain during a Texas summer. Not knowing when or where your next song, essay, or poem will come from, can make completion seem like a far-off dream. Chris Bolton, musician and songwriter, offers some advice.
---

But music affects us much more than simply changing our moods. We've written in the past about some of the effects music has on the brain, and today we'll dive a little deeper into that topic - more specifically on how music reduces stress.