Our Creative Soul Fort Worth Instructor Team
From education and music degrees to touring musicians, our Creative Soul Music School Team of nearly 50 Instructors is dedicated to learning about your personal musical goals and helping you to achieve them. We are confident that we have the right teacher to meet your music lesson needs. Our teachers have instrument specific university degrees from prestigious music program institutions such the University of North Texas and have toured with even such big artists such as Miranda Lambert. In addition, our teachers have warm personalities and are dedicated to teaching you the style and genre of music that you want to learn.
Aden Bubeck
Bass/Guitar/Piano/Drums/Student Bands @ Keller/Watauga
Touring Bass Player for Miranda Lambert & other big names including Kelly Clarkson!
Aden Bubeck now spends his time in Fort Worth teaching after years of touring with Miranda Lambert and other music greats. He studied music at the University of North Texas and Weatherford College. His main instrument is upright and electric bass but with vast musical skillsets, he teaches all instruments, and is comfortable playing all styles of music. Aden has performed on the stages of theaters, arenas and stadiums from Los Angeles to New York City, Europe and beyond. Some notable venues include Red Rocks, Ryman Auditorium, the O2, Carnegie Hall and Madison Square Garden. He has recorded numerous albums, motion picture soundtracks, appeared in several music videos and has also performed on television over 100 times. Aden's performance and recording credits encompass a wide range of music including performances with Miranda Lambert, Blake Shelton, Kelly Clarkson, Carrie Underwood & More. With his own kids attending Creative Soul, he wanted to return to give back as an Instructor on our Creative Soul team to invest into the next generation of growing musicians. We're exited to have him at our schools, adding his performing credits & love of teaching music to our Instructor Team!
---
Michael Peterson
Guitar/Bass/Vocals
When Michael Peterson sang Come Together at a sixth grade concert and heard whoops and hollers of
appreciation he knew he wanted music and performance to be a big part of his life. Michael comes from
a musical family, with a dad who's a professional musician, a brother who's an award winning pianist
and percussionist, and a sister who sings and performs on guitar.

Michael started on bass (thanks to Paul McCartney as well as his dad's promise that bass players work a
lot) and has held down the bottom in his own band MP3 and the Jeh Horton Band as well as lending his
talents to area schools' music departments.

Fascination with music theory and chord structure brought Michael to guitar a few years later. A
versatile guitarist, he plays both acoustic and electric in all styles. Michael has applied his guitar talents
to MP3 and held the guitar chair in his high school Jazz Band. He has also performed duo/solo gigs as a
guitarist/vocalist.

Peterson is also a vocalist in many styles, including classical, opera, and rock and roll. He studied under
the esteemed TCU voice professor Dr. Scott Ferrell, learning the voice mechanics and techniques
necessary for any genre of vocal music. He is the lead singer of his own classic rock group MP3 and has
solo and ensemble experience in choir and Broadway musical styles.
Michael loves teaching as much as performing: "Besides sharing my love of music I enjoy seeing a
concept finally click in a student's mind," says Peterson. "I know the thrill of that feeling when
something you thought was impossible becomes possible, and I like to see that thrill in students."
---
Devon McCauley

Violin/Guitar/Mandolin/Uke/Bass Instructor @ Ft Worth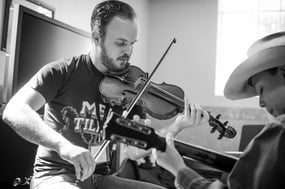 Devon McCauley, from Burleson, Texas, is a musician specializing in old time fiddling and acoustic "Swing Rhythm" guitar accompaniment. The old time Texas style of fiddling is Devon's favorite along with Western Swing and bluegrass. From very early in his career he listened endlessly to various musicians and bands, enjoying and studying their styles and techniques. His collection of music ranges from MP3's to 78 RPM phonograph records.

His guitar studies have expanded beyond Texas style fiddle accompaniment to include swing, jazz and country music from the 30's thru the 60's. His musical influences include fiddle players such as Benny Thomasson, Norman and Vernon Solomon, Terry Morris, Herman Johnson, Orville Burns, Paul Warren, and Tommy Jackson, to name a few. His favorite guitar players include the likes of Eldon Shamblin, Billy Strange, Homer Haynes, Joey McKenzie, Royce and Ray Franklin, Omega Burden and Freddie Green.
Currently Devon plays gigs and contests around the state as well as teaching private lessons!
---
Caitlin Lusk
Piano/Guitar/Little Soul Rockers @ Ft Worth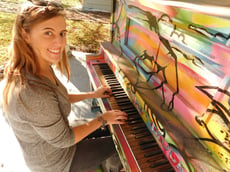 Caitlin was born and raised in the DFW metroplex and has been involved with music and children for nearly 5 years. She's performed in talent shows, school choir competitions and church events since the age of 13. While many may enjoy working with children, they are Caitlin's heart and delight. At the age of seventeen, Caitlin became an assistant director for a ministry called Children of Glory where she helped direct children's worship teams and services. Since then, she has been involved with multiple worship teams and children's ministries, dedicating herself to the development of children through the expression of music.

Caitlin teaches piano, knowing that one gains so much more than just the ability to play the instrument. How valuable is it to learn a skill that ultimately improves speech, language, memory, attention, and even the ability to convey your thoughts better vocally? She has a deep love for music and is excited to teach this valuable skill to children whodesire to develop their creative souls through lessons at Creative Soul School of Music.
---
David Smith

Drums/Guitar/Piano/Student Bands
With a music degree from the Conservatory of Music in Havana, David is one of our internationally acclaimed musicians, having toured all over the world with multiple artists and a broad range of venues. His positive outlook, upbeat and encouraging attitude is contagious to our Creative Soul Team and an inspiration to his students. As a Band Leader, music producer, drummer & percussionist he has traveled the world touring
with International Jazz Artist Brooks Giles & British Rock Band Contraplans, China artist Lee Rong Hao, Amanda Wood from Canada the Groove System Drum Clinics
, shows in Beijing with

Trina Johnson Finn, singer from Sly and The Family Stone,

the Green House Studio, Bertie Higgins, Jackson Twins. He performed on the TV Show with the Pianist from

Germany Joja Wendt at BTV.
He's also performed at multiple international festivals such as the
Shanghai Jazz Fest with Artist Jay-Dub and Donghai Music Festival with
Nancy J Brown, the Beijing Music Festival, also teaching Drum Clinics at Beijing School of Music, and helping produce album projects for Amanda Wood in Beijing.
---
Xavier Joseph
Voice/Piano
Xavier Joseph, baritone, is a recent graduate of Georgia State University, where he received a MM in Voice Performance. He was in the studio of mezzo-soprano, Kathryn Hartgrove. He holds a Bachelor of Arts degree in vocal performance from Oakwood University where he performed leading roles in The Old Maid and The Thief and Too Many Sopranos, scenes from Cosi fan tutte, and toured extensively with the world renowned Oakwood University Aeolians. In the summer of 2010 Xavier auditioned for and was accepted to the Manhattan Summer Voice Institute at Manhattan School of Music in New York City. While at the program he studied with Maitland Peters and performed in a scene of Mozart's Don Giovanni. In the summer of 2011 Xavier participated in the Harrower Summer Opera Workshop and sang the role of Maestro Spinelloccio in Puccini's Gianni Schicchi and sung a scene from Bizet's Carmen. While at GSU Xavier sang the roles of King Melchior in Amahal & the Night Visitors andBartolo in Le nozze di Figaro. 



In the summer of 2012 Xavier returned to the Harrower Workshop and sang the role of the 2 nd Priest in Mozart's Die Zauberflöte. In October of 2012, Mr. Joseph was afforded the opportunity to perform in Beijing, China, where he participated in a musical exchange program at Renmin University. In the fall of 2012, Mr. Joseph performed the role of John Brooke in Adamo's Little Women. Since graduating from GSU, Mr. Joseph has performed the roles of Peter in Hansel und Gretel with the Portland Opera Workshop, and Guglielmo in Cosi fan tutte with The Vancouver Coaching Experience. In 2014, Mr. Joseph made his Capitol City Opera Debut as Pritschitsch in Lehar's Merry Widow. 2015 saw Mr. Joseph making his debut with New Fangled Opera in New Orleans, LA, where he sang Ethan in the new opera, New Orleans Haunts by young composer, Phillip Seaward. Beginning in January 2016, Mr. Joseph will be performing with the Dallas Opera Chorus, under the direction of Mr. Alexander Rom. Mr. Joseph is currently in the studio of baritone Dale Dietert of Southern Methodist University. Xavier teaches at 4/4 School of Music in Plano, TX, and is excited to teach at Creative Soul in Ft. Worth, TX as well.
---
Johnny Garcia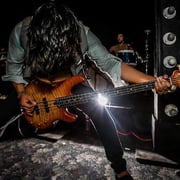 Drums/Student Bands
Born and raised in Texas, 

Johnny

 

Garcia

  started his musical passon at the ripe age of 13. With musical influence ranging from jazz to country to metal, his vast musical knowledge has allowed him to confidently persue the craft of audio engineering as well
 as the art of music production. Studying the drum set under jazz director Philippe Baugh and marching snare/tenors, 

Johnny

 learned the discipline of drumming which catipulted him to play with numerious well know artst in the metal industry ranging from, All That Remains , Memphis may Fire, Of Mice and Men and many more. With over 11 years of musical experience and 6 years of live performance experience 

Johnny

 believes everyone has the ability to create music with a little bit of dedication and practice.
---
Cody Miller

Guitar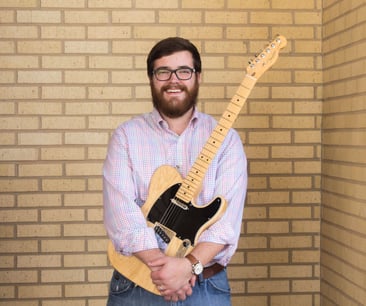 Cody began learning guitar over ten years ago, coming to 

quickly appreciate and emulate the styles of those who were 

influential to him such as John Mayer, B.B. King, Stevie Ray Vaughan, Jimi Hendrix, 

Charlie Christian, Wes Montgomery, Muddy Waters, and others. For 

Cody, playing and studying guitar is concerned with entering a conversation that has been taking 

place for generations. 



Cody studied first under Robert Gibbs of Sumter, SC where Cody attended high school. In order 

to prepare for a music degree, Cody began taking lessons on classical guitar with Alma Sehic 

and Brett Floyd of Columbia, SC. Cody also began taking 7-string jazz guitar lessons from Jerry 

Sims in Columbia, SC. Jerry Sims is a local music store owner in Columbia and graduate of the 

prestigious Berklee College of Music in Boston, where Cody also attended a summer program.





Cody began pursuing a Bachelor 

of Arts degree in Music at the University of South Carolina in 2011. Cody's time at USC was spent studying music theory and guitar 

performance in both classical and jazz guitar under the distinguished professors, Bert Ligon of 

UNT and Christopher Berg. 

In addition to having much experience in classical guitar performance as part of his education at 

USC, Cody maintained a profitable and much sought after solo guitar career in jazz guitar. Cody 

played at many venues as a solo artist in the Sumter and Columbia areas of South Carolina. In

both high school and college Cody also performed and served in many churches as both a lead 

and rhythm guitarist. In addition, Cody performed for over four years in special orchestral 

environments on guitar in events such as the singing Christmas tree. 



Cody joins us today in Texas as he pursues a master's degree at Southwestern Baptist 

Theological Seminary. He and his wife, Chelsea, have been married since they graduated from 

college in 2015. Cody and Chelsea enjoy reading, studying, teaching, serving, and like to do as 

much hiking with their dog as possible.
---
Ashley Ashton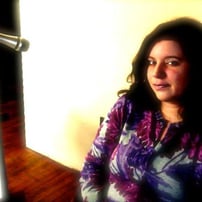 Piano/Guitar/Voice
Ashley VanArsdel has been playing piano since the age of 7, and also continues her music education to this day. She comes from a musical family: her dad was a bass singer in a quartet, both of her grandparents were professional pianists/organists, her grandpa played at a huge church for 30+ years.
She picked up guitar in high school at the age of 16 in high school, and has played guitar on many of her own recordings over the years.
Ashley is a working local musician, and while she has also played frequently in New York state, she is currently playing as a solo act and with her band Tripweather, in the Dallas/Fort Worth metroplex. Ashley has played keys with several Fort Worth bands, including Saloon Piano, Blurry Street and more.
She has been teaching piano since 2002, and loves nothing more than to see her students succeed in music. Ashley firmly believes that piano will help you with any instrument you are trying to play, or just music in general, you can't go wrong with piano!
Rebekah Anthony
Piano/Voice
Rebekah Anthony, from Godley, Texas, is a pianist, singer, songwriter, and has recently dived into the world of playing the cello
as well. She is a recent graduate of Tarleton State University in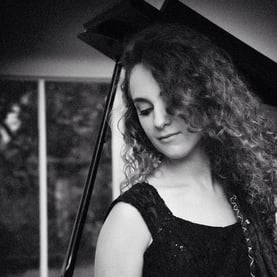 Stephenville, Texas where she received her bachelors degree in music business. She began playing piano approximately ten years ago, not knowing that this side hobby would develop into a deep passion for
music. Her primary instrument of study while in college was piano, although she also participated in either Chamber Choir or Select Women's Ensemble for the entirety of her time at Tarleton, and had the great honor of traveling to New York City with the Tarleton Chamber Choir to perform at Carnegie Hall.
Rebekah also began playing piano on the worship team at her church in Granbury, Texas five years ago. Here Rebekah realized the power of music and how it can transform lives. She now is a co-lead singer and songwriter on the worship team, known as The Beloved, and they are very excited to record and release their first album later this year. Becoming a lead singer for the team, however, was quite a bit of a journey for Rebekah.
Rebekah has loved to sing ever since she was a little girl, but was always too afraid to sing publicly. That all changed a few years ago when she attended a songwriting retreat held by the worship team she was playing piano for. At this retreat she wrote a song and through much coercion sang it to the team. Little did she know this simple act would create a profound effect in her life. Not only did the band learn the song, but she went on to lead it at church, thus beginning her journey to becoming a lead singer in the group. She later went through the process of copyrighting that song, which will be featured on the group's upcoming album. This song would then lead to a new passion for Rebekah- songwriting- as well as a new mission to help other musicians who struggle with fear and insecurities to realize their full potential and accomplish their dreams.
Rebekah is excited for her present and future musical adventures and would love to see her students excited about their musical journeys as well! She is very excited to be a part of Creative Soul School of Music and the amazing mission they have to impact lives through music.
Jillian Wyatt
Guitar/Piano/Voice
Jillian developed a love for music at a young age. She began playing piano when she was four, and when she picked it back up at a later age, she realized she didn't want a life without music and began to pick up other instruments such as violin, guitar, ukulele and mandolin. She obtained a Bachelor of Science in Music Business at Evangel University. Her main goal is to individualize lessons to the student and tailor to their needs. Her dream is to continue composing music and grow her music producing abilities. Her engaging and upbeat personality, and patience with her students makes her a top notch Creative Soul Instructor. Her love for teaching and going the extra mile in lessons and life is an inspiration to her students and team.
---
Josiah Horton

Voice/Guitar/Piano @ Keller/Watauga
A few highlights on Josiah...Full Bio coming soon!
Currently working on Master's Degree in Vocal Pedagogy

Bachelor's Degree in Music from Howard Payne University

Tenor Section Leader at University

Awarded Outstanding Upper Class Vocalist

Studied how to teach younger students and courses to learn more about the voice. I received courses in both choral and instrumental conducting. Extensive training in both voice and piano. Completed courses on how to create new arrangements of music.
Derrada Rubell-Asbell
Voice/Piano
A few highlights on Derrada...Full Bio coming soon!
Bachelor's Degree in Vocal Music Education from TCU

Director of Music & Worship at First United Methodist Church

Choir Leader at University Christian Church
---
David Tribble

Guitar/Voice/Ukelele
A few highlights on David...Full Bio coming soon!
Worship Leader at Life Connection Church
Local Singer/Songwriter & Performer for Churches & Events

Choir Leader at University Christian Church

Bachelor's Degree in Science from Stephen F. Austin State University

David brings a strong work ethic mentality to his lessons teaching students to "understand the importance of working hard and collaborating as a team effort with an open mind and flexibility with common goal/vision in mind.
---
Sean Hildebrandt

Piano/Voice/Guitar/Drums
A few highlights on Sean...Full Bio coming soon!
Bachelor's Degree in Arts Music

Local musician performing in several local venues & churches
---
Cody Scott

Bass/Guitar/Piano
Currently working on Jazz Studies Degree from UTA

Associate Degree in Music erformance
---
Carnell Simmons

Flute/Clarinet/Piano
A few highlights on Carnell...Full Bio coming soon!
Currently working on finishing his Masters Degree in Music & Arts Admin at TCU
Associate of Arts Degree in Music Education
Worked with Fort Worth Symphony
Member of Fine Arts Chamber Players in Dallas, Tx
---
Rowdy Carter

Guitar/Drums/Student Bands
A few highlights on Rowdy...Full Bio coming soon!
Taught at Creative Soul for 3.5 years
Member of local band
---