Meet Our Team at Creative Soul School of Music
Founders
Casey and Samantha Thomas

After picking up the piano at age 19, Casey overcame the fear that it was too late for him to pursue music as a career & proved the phrase that "it's never too late" to learn anything especially when dedicated and passionate. Graduating with a Hospitality Management degree from UNT, he also studied in the prestigious music classes there and focused on classical, jazz, blues, composition and improvisation, developing a voracious appetite for learning an instrument, and even sharing a practice room & some blues licks with Norah Jones.
He had a vision to create a community where kids and adults could be encouraged while learning music, a place where people could discover their interests and collaborate with others while having the time of their life. He's learned that to get truly good at anything in life and absorb it - you must have 3 key compenents:
Mentor/Coach to push you & pull you ahead
Community of others like minded & striving toward the same goals as you to encourage & challenge you
Experiences that build your skills, help you team, & create memories you'll remember for a lifetime
Through Creative Soul, this is what Casey intends to do by having a mission to help kids & adults alike gain not only a love for learning music but bring families and communities together to share in a love for music together.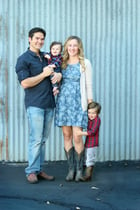 Samantha Thomas is a singer/songwriter originally fromHouston. She is a certified Texas Teacher and graduated with a degree in Early Childhood Education from Texas A&M University. She grew up studying the piano and began learning the guitar at a later age. After college, she moved to Nashville where she gained valuable experience in the music business and songwriting community. She performed on the worship team, leading youth bands at Bellevue Community Church under American country
artist, Lionel Cartwright. She's opened for such acts as Stoney Larue and Bob Schneider in the Texas circuit, and performed at Nashville's legendary Bluebird Cafe. She later returned to work as a guitar/songwriting instructor for The National Guitar Workshop's Day Jams Camp in Houston, which helped her find her way to a position with Creative Soul. She is very enthusiastic and passionate about music and teaching children of all ages and encourages creativity hand in hand with skill development.
Casey and Samantha married in June 2008, and together they are committed to growing a music community here in Fort Worth. Since 2012, they have expanded their family with two sons of their own and Creative Soul to three locations in the DFW area, now offering a music experience for people of every age, from Infants through Adults. They are now enjoying watching their own kids get an experience of loving and learning music through the schools.

Email: Casey@creativesoulmusic.com
School Directors
Don Silvas

Don Silvas wants to live in a world filled where he can learn new things, and help us solve the long lost quest for teaching students that the Bass is not just a fish.
Not only is he proficient in vocal training and dabbles at the geetar, Don coached students in ballroom dance for 15 years, placing them in competitive events across the nation. Currently studying Strategic Intervention at RMT, he's learning to help families and businesses have greater efficiency. With 4 years marketing experience at Fort Worth Marketing Inc. under his belt, he's now ready and wired to make sure everyone is taken care of.
Excited to be on our Creative Soul team, he feels personal accomplishment through seeing students confidence and lives change through their learning. His greatest love is studying strategic intervention and ways to "get students back to basics" - find out what they like, why they got started, and what draws them to music. He is also getting to enjoy his daughter experience a growing love for music through our schools.
His musical quote is "The beautiful thing about learning is nobody can take it away from you."
Tami Owsley
Tami Owsley is a musician from Cedar Rapids, Iowa. She started piano and voice lessons at a very young age. She has spent most of her adult life helping others come together to make beautiful music. From 2001 – 2016 she worked with the Texas Girls' Choir where she helped put together 4 major concerts per year. From 1990 – 2004 she was the Adult Choral Music Director and Children's Choral Music Director at the Grand Prairie Seventh-day Adventist Church where she produced 4 musicals per year. From 2005 – 2011 she was the Adult Choral Director at the Southlake Boulevard Church where she produced 2 major musicals per year.

Tami plays the piano, keyboard, accordion, flute, various percussion instruments and sings. She has been married to her husband Chris since 1989 with whom she has 3 beautiful daughters. Her daughter, Hannah, works as a busy Instructor at our Southlake Location.

"Some people think music education is a privilege, I think it's essential to being human." – Jewel