In-school Music Lessons with an "add-a-parent" option are special bonds for the Stone Family. Meet Creative Soul Students Linda Stone, a mom who studied bass guitar lessons for 2 years, and her son Joey Stone, a 15-year-old who studied drum lessons and other instruments for 7 years last 2015.
Discover why music lessons are important to them and why they prefer it than just a self-study pace on Youtube or e-books.
NOTE: This case study is based on an interview by a teacher Nolen Cierra
Power of Music Lessons: Bringing Family Together in Difficult Times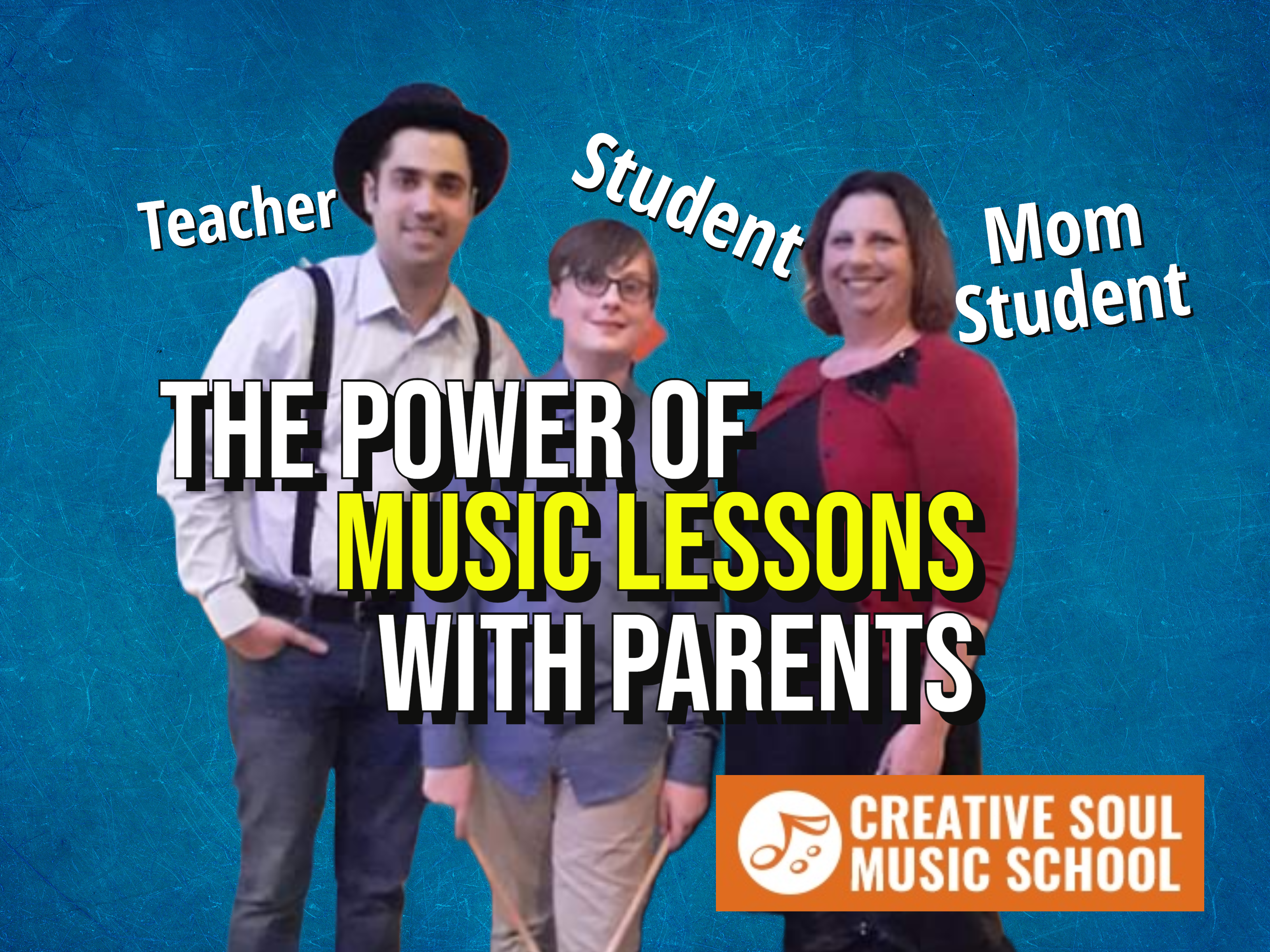 "Best Family Bond" according to Creative Soul Students
Teacher, Nolen Cierra, interviewed the students about the impact of music lessons to with parents, but bass student mom Linda Stone opens up the very reason why he joined the lessons in the first place
7 years ago, Linda's musician husband bought a drum set, bass guitar, and electric guitar. After her husband's passing, friends and fellow church members Casey and Samantha Thomas offered free music lessons to Linda's son Joey. What happened next was very surprising.
" A little about our background. I was in a growth group with my church, with Casey and Samantha and my husband and I were, well... My husband had bought a drum set and a bass guitar and an electric guitar. He had gotten to talking to Casey. Well, my husband passed away and after that, Casey and Samantha came to me and asked if they could gift us free lessons for Joey.
Then they said that if we'd like to continue that they would sign us up. I thought it was a good idea because I didn't want to sell the drums. I didn't sell any of the instruments and it's been seven years. I thought it would be a good thing that we could actually use the instruments that we already had "
- Linda Stone stated about her family's past
Joey really took to the drums playing some of the most difficult songs and technical pieces his teacher David could find. Just like his father Joey really took to playing his drums. But what was so special was that his mom joined him learning the Bass in lessons and on stage. Creative Soul's "Add a parent" option in Private Music Lessons helped Linda start her journey to be a musician but something she could do to connect with her son.
"

That's kind of why I got into bass

when I started seeing the advertisements through the school about

parents being able to add-on to a lesson

. And I thought that might be a good idea for me to be able to learn the bass guitar, because I had been interested in it. That's kind of how I got into the school. "

- Linda Stone on why she played the bass
The Stone family developed such a strong bond in Creative Soul's Add-a-Parent music lessons that lead them to become continuous students for 2 years. It's not just filled with purpose but super has so much to offer benefits to the body.
The Struggles of Being Self-Taught on Youtube Videos and E-books according to students
According to the students' personal experience, free music lesson videos on Youtube videos and e-books mostly do not work and consumes their time on research.
"
I didn't really have a process. I thought about

YouTube videos or a book

and it just didn't seem like the way for me to learn. I think for me, some of the challenges in trying to learn on my own is I wouldn't know if I was really hitting the right notes without some outside help and I wouldn't have that interaction."
- Linda Stone on Struggles of Self-studying
When asked, "What would you see maybe specific challenges that you would have faced doing YouTube videos or maybe just reading off of a book?" Joey responded by saying:
"
I haven't learned an instrument before I went here.
I would

struggle the most for learning the techniques

for rolling and paradiddles.
"
- Joey Stone on Struggles of Self-Studying
7-year Student tells why #1 Reason Music Lessons Fail
"What challenges with learning an instrument do you see on the horizon for every kid and adult learner and how do you think that we can help with that?", Joey, who is an eight-grader and a drummer his school's varsity band, replied by saying:
"The beginning is always the hardest part because you never know what each symbol on the staff means. You don't know, in my example, how to hold your drumstick. They may not know the correct techniques."
- Joey Stone on Why Music Lessons Fail
This is true when you are aiming to be self-taught online, you will not know what each symbols of the musical notations mean. Like the staff, notes, keys, dynamics, and more. You may not also learn the correct systematic techniques and fundamentals in playing an instrument.
7 Benefits of Add-a-Parent Music Lessons
The interviewer, Nolen Cierra, asked the students "What are the benefits of in-school music lessons, particularly with the 'add-a-parent option'" they responded the following:
1.

Time Management
Photo by: Everyday Health
The important part of learning a skill is that you should manage your time to balance the schedules for your other tasks. Add-a-parent lessons save your time in learning than spending much time watching videos and research with no accuracy. Most of the videos are not straight to the point and they will spend too much on verbal examples.
Here's what Linda Stone have to say when she enrolled bass guitar lessons in Creative Soul Music School
" I didn't have to research and try and find, because you never know what you're going to pull up. And having somebody that we know is a good teacher because they have been vetted through the school, we know that we're getting a good teacher. That cuts so much time and research out. You can just go to the school and know that whoever they put you with is going to be a good fit because you all take the time to match us up. "
- Linda Stone on Time Management
2.

Practical Learning on Techniques

Photo by: Leading Musicians
The problem with self-studying is that you only want to know what you feel at the moment based on your interest. It conflicts the idea of a systematic and practical learning wherein you get to study the first important topics practically with challenge and effort. Most self-taught aspiring musicians do not have an organized schedule of learning that will have ineffectiveness on their learning.
If you enroll in music lessons you will know the fundamentals and techniques of your instrument as well as sight reading and other important topics before hitting the strings.
"Aspiring musicians may not know the correct techniques when they just rely to be self-taught online. Talking to the teachers will help you practically learn the techniques."
- Joey Stone on Practical Learning
3.

Instrument Mastery
Photo by: Loudwire
Learning is all about mastery. Although ordinary music lessons are already helpful, private lessons with a parent and teacher is more memorable and effective. When Creative Soul Staff asked the Stone Family, "what is the long-impact that of music lessons", each of them responded.
"
The long-term impact is

mastering the instruments

you want to play and perhaps joining or forming a band, like David, my mom and I have. "
- Joey Stone on Instrument Mastery
"
Yeah. And I think long term, like Joey was saying, you do

learn to master your instrument

over time. It takes that time.
When he first started, it was a struggle and man, he has just made leaps and bounds over the last three or four years that he's been with David."
- Linda Stone on Instrument Mastery
4.

Learning more than just one instrument
Photo by: The Music Network
Once you master an instrument, it will be easy to study another instrument because you already taught in ear training, sight reading and others. One example is the piano, if you learn the piano, you will be familiar with the notes, keys, and scales of other instruments.
Linda was so happy to know that her son played more than just one instrument she quoted:
"So it's exciting for me to see how much he's grown in his instrument and his learning. That's another thing: he wants to learn more.

He joined the school band and percussion covers a lot of instruments that I didn't even realize like piano and xylophone and things like that.
And whenever there's a chance for him to try something, a new instrument, then he jumps on it and he's ready."
- Linda Stone on learning more than just one instrument
5.

Colorful and Fun Environment

A colorful environment with positive people makes the lessons fun and energizing. Sometimes our own homes give problems that drain our energy to learn new stuff. which also effect our concentration and performance. Having a beautiful environment like in Creative Soul Music School is what you need to brighten up your day.
" So it's a good environment to be able to come in and see what you're getting into. I think that's a good stepping point for learning. It's so open. It's colorful. There are little things like that, that you don't even notice, but it is. It's cheerful, it draws you in. "
- Linda Stone on Colorful and Fun Environment
6.

Building New Relationships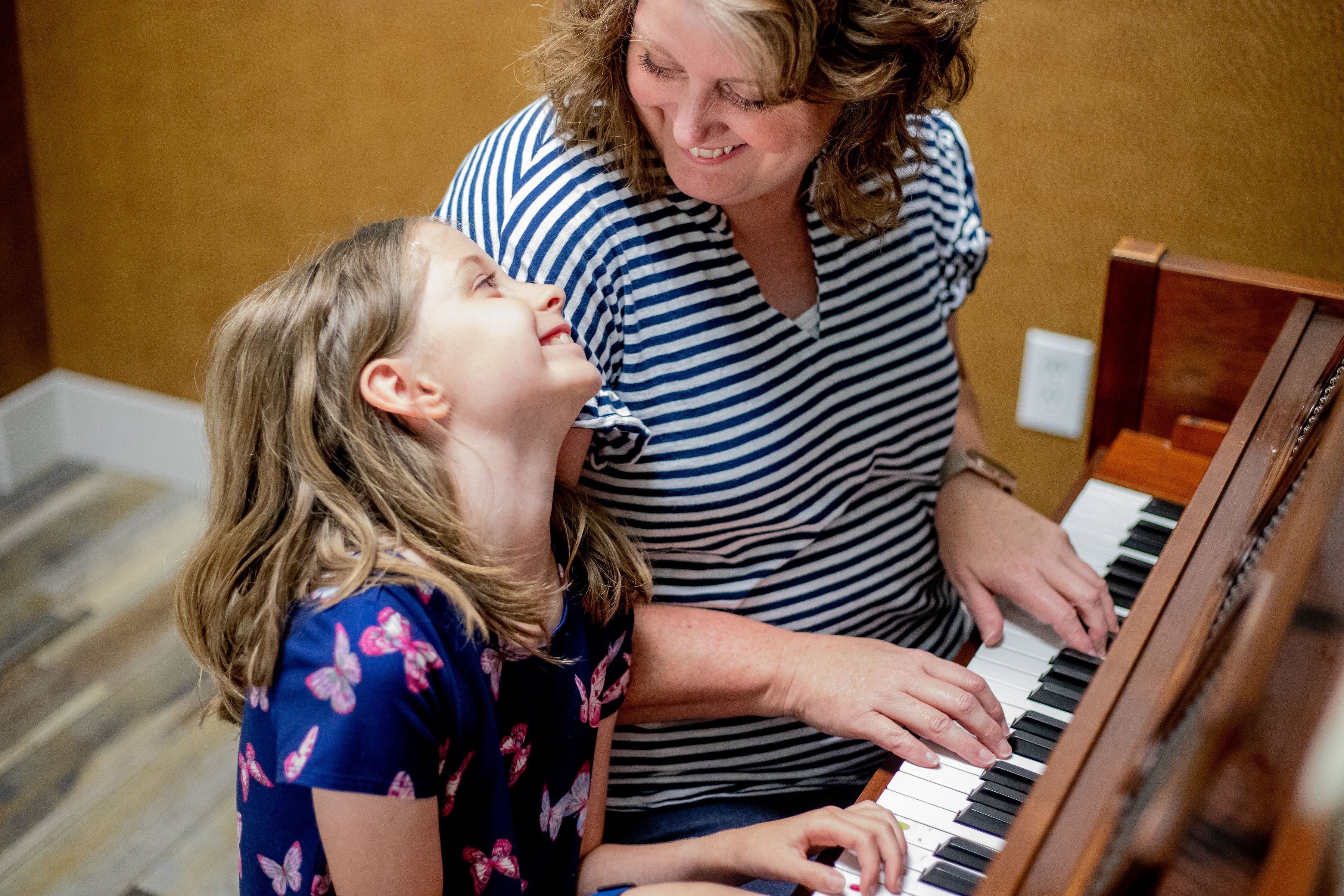 Changing your environment will help you gain new interactions with fellow musicians and teachers. New friends mean new memories and more learning. Music helps us improve our social skills because we get to interact with people of different instruments and know about their lives as well.
"
And then meeting the teachers, it just draws you in a little further. It's a good environment to be able to learn. It's relaxed and that one-on-one, your teacher can work with you on your level.
And you have that open window, you can see the interaction with the other musicians and the teachers."
- Linda Stone on Building New Relationships
7.

Confidence
All musicians are welcomed in academic schools, office and other for entertainment. Performing privately and publicly will help you boost more confidence and add more background to your skills. For example, If you already mastered music, you'll be confident to say, "I'm not just a mom and office worker, but I'm also a musician".
Especially if your child is a musician as well. You are proud to say "He's not just a painter and writer in their class, he's also a musician" for example.
"
He wants to try. I think that foundation in Creative Soul helped with that push because he felt

confident

that he could try something new because of his background here."
- Linda Stone on Confidence
3 Secrets to Continue Learning Music
1st Secret:

Never Give Up
The 15-year-old drummer and the bass student Mom advises people to never give up on music lessons regardless of your age and perception of difficulty in the lessons. Learning music is only hard when you self-study. It will be easy if you let professionals teach you how to absorb the techniques well.
" Keep trying and don't give up."
- Joey Stone on advice for beginners
2nd Secret:

Encouragement & Accomplishment

t
Encouraging the students on their accomplishments will help them grow more in learning. Never insult someone just because they are not good enough from the start like what nagging and annoying people do.
Creative Soul Staff Nolen Cierra interviewed the 2 students, "How would you say that private lessons or the add-on parent lessons have helped you with learning an instrument?"
" It's nice to have that

encouragement

. David is

very encouraging

. He breaks it down simply for me because I'm older and it's sometimes harder to learn and he is very patient and he is, like I said,

very encouraging

. It's nice to be able to

accomplish

and finish a song and say, "Oh, I did it."
- Linda Stone on Encouragement and Accomplishment
3rd Secret:

Find experts whom you trust to vet the instructor.

s

.
Good and friendly instructors came from good and friendly founders. Make sure that the music school you'll be enrolling have founders which train the instructors to be patient and compliment the students progress in learning regardless of the mistakes they do. The Stone Family gave remarks about Creative Soul during their interview with Nolen Cierra.
"Creative Soul is the best music school"
- Joey Stone on Creative Soul Music School
"And I think recommending Creative Soul because you all offer time to jump in and try it before you commit for life or whatever, and that's a really nice thing. And you have that open window, you can see the interaction with the other musicians and the teachers. So it's a good environment to be able to come in and see what you're getting into. I think that's a good stepping point for learning."
- Linda Stone on recommending Creative Soul Music School
It's not too late to learn an instrument with your kids
Don't let your musical instruments be unused.
Linda Stone regretted that she didn't study music lessons earlier like her son did. There is a 5 year gap of learning between her and her son's musical ability that she wished she started sooner.
" I really felt bad about jumping in on Joey's lessons because Joey is so far, so far ahead and I am just starting. So I was a little concerned about that, but David has just handled it so well. We really enjoy playing together. It's fun. "
- Linda Stone on not learning music sooner
But thankfully Creative Soul Music School have the "Add a parent" Option in their private lessons to create a strong bond with children.
" I'm just so thankful to them for reaching out all that time ago. It gave him something to do. It gave us a use for instruments that were just lying around the house. That's been really a nice thing, to know that they're being used and that we're actually learning something from the music. So that's been a really good thing."
- Linda Stone on using instruments in the house
There will always be a purpose why a musical instrument is in your house even if you are not a musician. There will always be a room for it in our hearts. Especially if it has a sentimental values like what the Stone Family has.
Will you have to wait for your musician family member to pass away before learning music? It's never to late to learn what ever age you have.