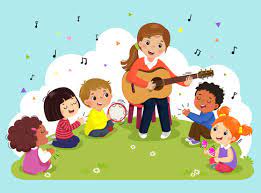 There is a discussion about the different learning effects between Private, In-School, and Group music lessons. Each of them has its unique benefits, however, we will focus on how group music lessons work.
Like academic schools, group lessons are the most common type of class. It is the cheapest way to enroll children and meet a lot of friends their age. With physical presence, the student will have an idea of what's it like to learn together with classmates.
If it's your first time enrolling your child in a music school, you will wonder how large the group lesson will be and the actual scenario of it.
Group Music Lessons are so much fun!!!
What will learning look like for kids in a music group setting?
A group music class can be noisy, but that is when the fun begins. The instructor will lively teach the young students. Group music lessons can have more than 6 members who will be enrolling for the same instrument.
Why are group lessons so beneficial?
Peer learning can be a helpful motivator to practice. Students develop their ability to effectively listen not only to themselves but to their classmates around them. Students work towards the well-being of their entire class, learning that their personal success goes only as far as the success of the group
Creative Soul's Group Lessons:
Lil' Soul Music Class (Ages 4-6) This small group 60-minute music class option is an educational and fun way to teach the basic music fundamentals, as well as give moms and dads a well deserved break!
Mommy Baby Makin' Music Classes (Ages 0-3) This weekly 45-minute small group class is great family time through the introduction of music for parents, grandparents, & families!


What about a band class?
A band can also contain 6 members. Although a band is considered as a group music lesson, a band's goal is to perform a song together with students of different instruments. If you are interested to enroll your child in a band class instead, Creative Soul Music School has a Student Band Program you will definitely enjoy!
Should you think of it as a rock band or orchestra?
An orchestra can sometimes be considered a band, but a band itself cannot be considered an orchestra. Creative Soul Music School has a lot of talented multi-genre teachers that your kids will enjoy. Genres include Rock, Musical Theatre/Disney, Popular, Folk, Blues, Jazz and Classical.
Creative Soul Band Programs:
Summer Lil' Soul Music Camps (Ages 3-6)
Our Lil' Soul Campers are introduced to fundamental music concepts, instrument exploration, & the excitement of stage performing! Through music, art, & movement, campers discover engaging play & learning of musical concepts, singing, acting, and rhythm. To top it off, campers will even perform what they've learned end of week for parents, family and friends!
Summer Music Camps Ages 7-16 years old
Teaming into your very own "band", campers perform end of week in one of our state-of-the-art Live Stage venues in each of our three music school locations for your family & friends!
Weekly 60min Band Practice with experienced Instructor
Free Performances twice a year + additional Gig Opportunities
Bands choose their own style of music
1 hour of band coaching with
1 hour performance for your team members
Optional experience a real live recording session with a cd for each team members
Optional videographer for Music Video.
Band Date Night (For Ages 18+)
Learn a song in 5 min without ever touching an instrument beforehand!!!! Band Date is our popular fun Adult Band Date Night Music Experience offered at high demand at all 3 locations! No matter what your skill level is we are going to have a blast!
Are group lessons better than private music lessons for kids?
Group lessons are great ways to make the class lively. But every child is different. Private lessons are made for quiet and concentrated learning. There are some students with medical conditions like ADHD have poor concentration in learning and will not cooperate well in lessons. There are also parents who just want to keep things private without any serious issues.
If you like Private Music Lessons:
1 on 1 Private lesson - Beginning students can expect to start with the fundamentals, learn proper technique, rhythm, and reading music in a variety of genres. Intermediate to advanced students continue to experience progress with increased proficiency in technique in addition to mastering significant repertoire and developing overall musicianship.
"Add A Parent" Program - is when you as a parent, learn alongside your child, thus enriching both of your music skill sets. This builds accountability for both child and parent, and fosters the relationship through sharing the love of music together.