Creative Soul Music School is now offering some exciting new music programs, even for those future musicians who are very young.
We are no strangers to the sippy-cup crowd, we'd love to have you join our Makin' Music Rockin'
Rhythms Program!
Award-winning family classes feature friendly and enthusiastic teachers who lead the class as you gather in a circle to make music together. Not only do our classes have a strong educational foundation, but they are incredibly exciting and fun, as well.
Makin' Music's programs integrate well with pre-school curriculum objectives to reinforce concepts, such as:
cognitive development
language development
gross motor skills
math readiness
memorization
life & social skills
imagination
imitation
spatial skills
pitch and tempo
nature/social studies
…and more
Young listeners are immediately engaged by the music & are carried from song to song by infectious rhythms & energetic production. No matter your child's age, the fascinating & rewarding experience of Makin' Music creates natural stepping stones to formal music schooling & facilitates the transition to more advanced ideas.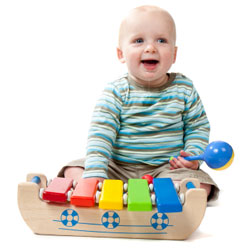 Every Makin' Music song is lovingly written, adapted, & produced to introduce & reinforce plenty of of your child's important developmental milestones. Our young music classes are planned to include action songs, lullabies, play-alongs, seasonal songs & chants to engage those young learners. This encourages maximum class participation by using movement, finger-plays, group chants, percussion instruments & other musical props. The blend of traditional, original & world music, as well as a gifted array of featured vocalists, makes for a joyful musical ride that kids will require to jump right back on when the recording ends.
Young minds love music and can benefit tremdously from music education. The younger these children start, the longer they have to reap the rewards of a musical education. Start your child in our young Makin' Music class.