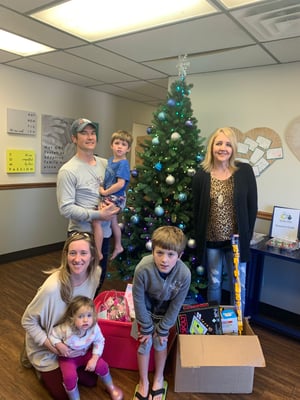 My family and I joyously delivered some holiday gifts and got the privilege to visit with Vickie Akins, Founder and Executive Director of Chosen Ones today to drop off our donations from amazing parents like you and our Creative Soul Family to all the local Foster Families in need here in DFW.
She exclaimed what a huge blessing to get all these generous holiday presents every season from our Creative Soul Family and how wonderful our ongoing donated music lessons delight so many foster and adopted kids in our communities. After a tough year, she said donations like these helped to support to keep their doors open to continue on their mission to serve monthly 450+ foster & adopted children and their adoptive and foster family networks locally.
These foster and adopt families are the true heroes, experiencing a call from CPS sometimes at 2am for them to receive a child or children into their homes. They need a place where they can pick up diapers, a crib and some fluffy teddy bears that can give warm hugs in the middle of the night. The Chosen Ones donation center is available all hours for them and provides additional resources of support and need for these kids and families.
Thank you for being a part of our gratefully blessed Creative Soul Family. It's donations of your music lessons & these generous holiday gifts for our toy drive year after year that help us carry on our Creative Soul Mission to "bring families together through music..." and our desire to extend that opportunity locally to help others discover that same community and joy.
We wish you a Merry Christmas!
From our family to yours,
If you feel you and your family would like to help and make additional donations, CLICK HERE.