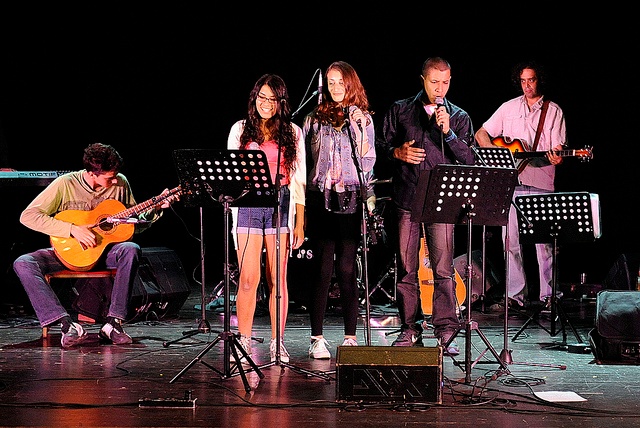 Photo by Name of Photographer / CC-BY-SA
Who doesn't love a fun date night? The only obstacle is that it seems to be hard to find something fun to do with your significant other. We've decided to make it easy for you by compiling some of the most popular places and activities in Fort Worth that are perfect for a fun date night out. Check out our list below!
Do you want to have a blast while doing something music related? Creative Soul's band dates for adults will leave you with an experience you will never forget! No matter what kind of musical ability you have – if you have any at all – you can easily learn a song with others in about 5 minutes! No experience required, just the willingness to have fun! Click the link above to sign up for a date night!
Head over to the zoo in Fort Worth for an entertaining afternoon! The zoo combines the fun of animals, entertainment and various attractions to provide a great time for kids and adults! Open 365 days of the year, the zoo will let you in from 10 a.m. – 5 p.m. Mon-Fri, and 10 a.m. – 6 p.m. on the weekends.
Smack dab in the middle of Fort Worth, the Coyote Drive-in is a great place for a group, family or couple to enjoy brand new motion pictures. You can get tickets at their website – just click on the link above! Bring your blankets and a little spending money for concessions and be prepared to have a great time.
Do you love art? How about history? Why not both! Check out the Amon Carter Museum of American Art for beautiful pieces and fun activities. This is a free museum that will knock your socks off! You can find their hours and directions here, in order to plan a great date night.
If you've never had fondue, it's definitely a must. We think you'll find Simply Fondue simply fabulous when you spend a relaxing evening dining there. This classy restaurant is at the heart of downtown Fort Worth in Sundance Square, just waiting for your visit.
For a date night saturated with everything about Texas, the Fort Worth Stock Yards is the place to be. Arrive just in time at 11:30 a.m. or 4:00 p.m. to watch either daily cattle drives or you can shop, eat, play and learn with the endless activities.
This wonderful sushi place has been featured in magazines, newspapers and websites. You will not be disappointed when you try these amazing dishes. Little Lilly Sushi is open 7 days a week (times vary) and you can even call in a delivery order if you feel like staying home. Be sure to check out their website.
Who doesn't love a fancy date night? Head downtown to the Bass Hall to see unforgettable performances. Take a look at their calendar of events to buy tickets to a variety of shows this season and get ready to be awed by talent.
The Kimbell Art Museum has a rich history and tasteful displays. Anyone who appreciates art will love the many works presented at the museum. Take your significant other to view the art, join a lecture or watch a film at this renowned attraction.
Although it is a steakhouse, Texas De Brazil has established a dining experience like no other. The dishes are authentic Brazilian-American cuisine that you won't want to miss. Do we already have your mouth watering?
If you need a laugh, we know just where to send you. This well-known group of comedians has performed for national audiences, won over 10 awards and left people laughing beyond control. They continue to perform every weekend at their own theatre in Sundance Square.
For a relaxing afternoon, take a tour through the beautiful Botanical Gardens of Fort Worth. The entire garden is 110 acres – jam packed with nature's beauty! Have a romantic date strolling through the rose gardens or feeding fish at the Japanese garden. Find out about events being held in the garden at the Fort Worth Botanical Gardens website.
Have you always wanted to tour Fort Worth? Hop on a Segway as a tour guide takes you to the Botanical Gardens, through the Stockyards and down the trails of Trinity Park. You'll have a blast – and besides, who doesn't want to spend an afternoon on a Segway? Book a tour at their website above.
If you and your significant other just like to talk over a cup of coffee, Brewed is your next date night. The unique atmosphere, paired with the delicious menu and smooth coffee will leave you in love with this little shop – you may even have a new favorite date night setting.
Every second Friday of each month, this unique glass-blowing studio hosts an open night where you can watch each step of creating beautiful glass pieces. This is certainly an entertaining and educational way to spend the beginning of your weekend. Find out more about SiNiCa Studios on their website.
We hope you have a great time perusing some special places and events in Fort Worth!