"Education's purpose is to replace an empty mind with an open one."
- Malcolm S. Forbes
If you've been following our
Instructor Highlight Series,
we hope you're enjoying our New Instructor Highlights. We continue today with our newest instructor highlight - Andy! Below you'll find some cool facts about our newest Creative Soul Instructor along with some fun
"Did you know that?!"
facts about the instructors you're already getting to know. So meet Andy! On our
Keller/Watauga School
staff, he's rockin' the suburbs, teaching Voice Lessons & Drum Lessons in Keller. Read more about Andy:
New Instructor Highlight: ANDY WEAVER
Marrying the best of both worlds for a music Instructor, this Music Ed degree & "world touring" rocker, brings a fresh new attitude to our Creative Soul Team!
Voice/Drums Instructor @ Keller/Watauga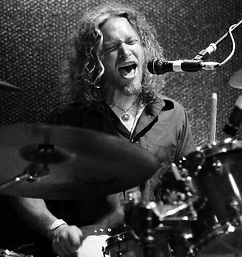 DFW native, Andy Weaver is a professional drummer/percussionist and vocalist with over 20 years of performance and education experience in the music business. Graduate of the University of Texas in Arlington, he holds an all level B.A. music education degree specializing in drum and percussion performance. Primarily self-taught, Andy immersed himself in the art of drumming at age 12 working on anything and everything he could get his ears on alongside being classically trained in percussion, trumpet and voice. During and after receiving his degree, he fully immersed himself into all aspects of the music industry as far as music production, promotion, performance, song writing, and recording, as well as taking on private students to share what he has learned through his musical journey.
Throughout his career, Andy has performed around the world on both drum set and percussion as well as lead and backing vocals with artists of all calibers in an extremely wide variety of musical genres including: Jazz, rock, pop, country, alternative, classic rock, jam band, reggae, electronic, hip hop, instrumental, metal, big band, acoustic, latin, afro-cuban, gospel, South Indian Carnatic, Folk, and Americana.

Currently, Andy Weaver is the primary drummer for international touring artist Manny Charlton (formerly of Nazareth), Fort Worth based orchestral rock group ALAN, local acoustic rock duo Chasing Rent, and works regularly with Samantha Newark (voice of JEM and The Holograms), L.A. producer Gary McGrath, Dean Minnerly (former keys and organist of 3 Dog Night) and many other local DFW based artists. "Everyone has an artistic voice inside of them dying to be heard, I just provide tools to express themselves through the international language of music."
Teaching: Voice/Drums Instructor @ Keller/Watauga
Wanna learn more about our full Creative Soul Instructor Team:
Subscribe to our Blog to the right and "like" our Facebook to keep these Instructor highlights coming!...
Sincerely,
Samantha Thomas, Founder
&
The Creative Soul Team