Find musicians. Typically, for a rock band, you will need at least one guitarist, one bassist, and a drummer, and the lead singer can either play an instrument or not.
Come up with a name. You can pick something meaningful or just one that sounds cool. Typically the band will decide on the name. The best names are usually short and easy to hear, read, and spell. That way it's easy to remember
Pick Your Genre(s).If you can't all agree on one genre play a bit of both or mix together and create your own genre. Have everyone bring a mix cd of their favorite music.
Consider making an Interband Contract or "band agreement". This contract will offer some protection for what a member can do with the name, payment, ownership of songs, equipment, etc if/when he/she leaves the band.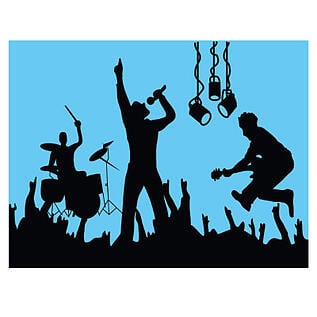 5. Find a practice space! Will it be in someones basement? garage? Will you keep all you equipment there? Get permission from whoever owns the property.
6. Practice! Becoming a good band takes time and effort. Practice will also ensure that you and your band-mates develop a rapport
7. Begin writing songs after you practice a lot. Write as many as you can, but you'll want to have a repertoire of about 11 or 12 to headline at a show
8. Record a Demo or Record. This will be your best piece of promotional material. It can be sold at shows, used to get record deals, agents, managers, etc.., and used to promote to fans online
9. Start seaching for gigs. You may want to build a press kit. This is the music Industries standard for a resume. Venues will look at your EPK (electronic Press Kit) before deciding to book you or not.
10. Spread the word. Make flyers and take them to your school and paste them in places you are allowed to. see if you can get friends to help you with this so the work goes faster.
Can't wait to rock? Check out ROCK CAMP