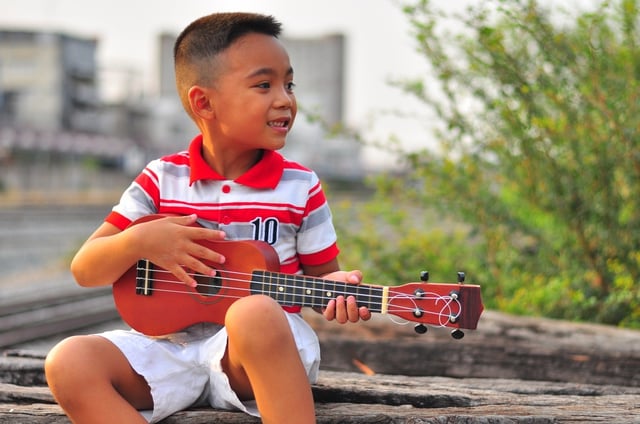 One of the types of lessons we offer at Creative Soul are ukulele lessons! Apart from the classics of guitar, drums and piano, the ukulele is such a unique and fun instrument to learn! We've highlighted some of the great things about learning to play the ukulele - take a look!
What Are The Benefits of Playing the Ukulele?
Because of it's small size, the ukulele is especially well suited for younger students (and older too), with less developed hand muscles. It's an instrument that is simple to learn, but can also be used at a very advanced level! (Check out this fun video for an example of high-skill ukulele.) Also because it's so small, it's an easy instrument to travel with - one that won't cause a ton of hassle!
Another great thing about ukuleles, is that they typically don't cost very much! There are certainly different types of models that may cost more, but any ukulele should be fairly affordable - otherwise, it may just be unreasonably priced. You can find a good sounding ukulele for a low price at most music stores.
The last benefit may be obvious: the ukulele is a beautiful sounding instrument! It's quiet and calming, but can be plucky and fun!
Learning Process
To learn the ukulele at Creative Soul, you don't need any experience whatsoever. Bring your instrument and pick, and the instructors start with the basics! They will go over basic music theory, chart reading, aural skills, positioning, strumming/fingering, and chords.
Chords on the ukulele are not the same as the guitar, but they are conceptually similar. Take a look at this chords chart to practice with!
Our instructors are more than willing to answer any questions you may have along the way! They also get to show you how to play the ukulele and practice with you.
Song Suggestions For the Ukulele
These are some classic songs to learn on the ukulele that you can certainly have a lot of fun with! Which one do you want to learn next?
Want to sign up for ukulele lessons? Fill out the
contact form
on our homepage! We'd love to see you master such a fun instrument!