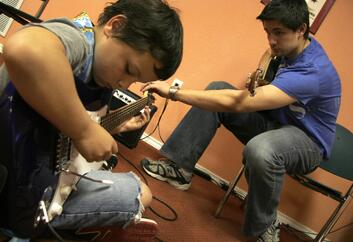 Most parents consider enrolling their children in music lessons. They were probably enrolled in music lessons as kids themselves. It's just something we all do. But there is good reason for this generational pattern.
Music lessons can be one of the best tools for building confidence, discipline, and problem-solving, not to mention the social benefits that will last a lifetime. Whether they are learning guitar, piano, or violin, there are certain things every parent should know beforehand so that their child can get the most out of their music lessons.
What Parents Should Know About Music Lessons
1. The importance of picking the right instructor. You need an instructor who is skilled in music and will make learning music fun for your kids. You also want instructors to be able to identify each student's unique gifts and talents to be able to make their music lessons more successful and engaging.
2. Commit to at least one year of lessons before quitting. Learning to play music takes time. And there are times when your children won't find it fun, as fun as we try to make it. Encourage them (and remind yourself) to give it time. Once you get through the fundamentals and challenging parts of learning an instrument, you'll really enjoy getting to play songs you love.
3. Don't just settle for Private Lessons. Try Group Lessons. Sometimes being around other young musicians trying to learn an instrument can add inspiration and a challenge. You'll want to keep playing because you have fun with your classmates and want to keep up with them.
4. You can decide to buy or rent an instrument. If the cost of an instrument seems daunting, understand that you can always rent one. This can be a cost-effective way for students to learn an instrument without you having to break the bank - especially if you aren't sure how long they will stick with that particular instrument.
5. Include the whole family. Like group lessons, this can add a bit more encouragement for your young musician. He or she is not going at it alone but learning an instrument while siblings or parents are, too.
6. Reward your child's achievements as they attend lessons. Applaud their progress so they can be encouraged in their lessons and want to keep going.
7. Find a supportive music community that believes in music performance. This will challenge and encourage your child as he/she learns and progresses in their music development.