Creative Soul Music School
Early Bird Summer Camp 2017

- Ages 3-7yr & 7-16yr

Save now! Spots filling!



"bringing families together through music..."



Are we the right music school for you?
Creative Soul Music School is the largest family owned music schools in DFW having taught over 5300 students since opening in 2006. With three music schools in Southlake, Fort Worth, and Keller we provide a fun, supportive creative community for quality instruction in an inspiring, unique atmosphere. We have our very own in-house performance venues at each school to allow students more performance opportunity. With nearly 40 teachers - you can be confident that we have the right teacher to meet your needs!
While you are here researching the best school for you, please consider the benefits of becoming a Creative Soul Student.
11 benefits of becoming a Creative Soul student:
1. Piano,
Drums, Voice, Singing, Bass, Violin, Trumpet, Banjo, Flute, Mandolin, Ukulele, Rock Band
2. The largest and most qualified family-owned teaching faculty in DFW.

We have nearly 40 music teachers, all with either college and teaching training or professional performance experience. Our music teachers are dedicated to learning about your personal musical goals and helping you to achieve them.
With at least three music teachers for guitar, piano, voice and drums, we are confident that we have the right teacher to meet your music lesson needs. In addition to their teaching credentials, our teachers have warm personalities, are extremely friendly and dedicated to teaching you the style of music that you want to learn in your music lesson.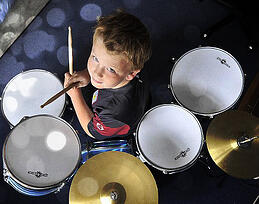 All staff go through extensive background check & interview process.
3. A wide range of music lesson times available six days a week!
We are the only music school in DFW that offers music lessons six days a week from early in the morning to late at night to accommodate your busy schedule.

9:00 a.m. - 9:00 p.m. Monday - Friday.
10:00 a.m. - 4:00 p.m. on Saturdays.



4. A proven track record of excellence since 2006.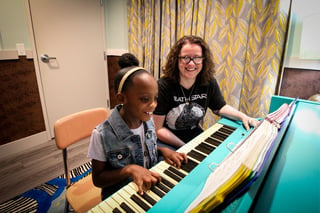 Visit our testimonial page to see what our students are saying. Every year, aspiring music teachers start their own studio, and a year or two later it's closed. Creative Soul has a proven track record of offering quality music, piano, guitar, voice, singing and drum lessons in tarrant county year round. Our full time mission is teaching music lessons trusted by over 3700+ families for over eleven years.
5. A comfortable parent's lounge for our clients in inspiringly decorated spaces.



Our locations range from 6,000 to 3,500 square feet, we have the most spacious and parent friendly waiting area in Texas.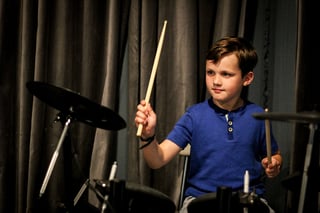 Instead of waiting in a music retail store showroom, our clients enjoy a spacious, professional parent's lounge with Wifi. We also provide large observation windows on every door so that you can watch your child's lesson while you wait. Or if you prefer you can sit in on their lesson anytime you like.
6. Free music recitals in world class music halls and
our annual rock band showcase!

We are one of the only music schools in DFW that offers free student performances & our own in-house professional performance venues at each of our facilities as well as performances all over the metroplex.
Every parent just wants to know how their child is doing and if they are really progressing. The best way for a parent to understand if their investment in lessons is really worth it, is to have their child participate in a recital.

With more than 17 scheduled performances a year, there is a multitude of free performance opportunities for our students. We hold some at our own locations but select groups of students will have the opportunity to perform in outside real live gigs and venues to help build their confidence.

For our students these recitals are free and unlike many schools in DFW we do not charge recital participation or admission fees.
7. We also host our Soulapalooza Concerts 3 times a year, which gives your child the opportunity to play in a real live rock band!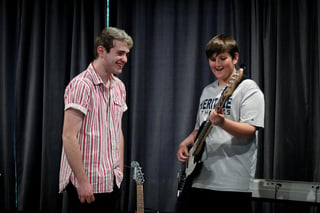 We have one of DFW's most established and recognized rock band programs for kids and teens since 2006. Your child will love the opportunity to rock out on the big stage. You are encouraged to bring your family and friends to the show for free to share in the fun!

8. Professional office staff six days a week to serve you.

Many music studio desks are staffed by the teacher/owner or more commonly an answering machine. We have three office team members who are available at the front desk to assist our clients quickly and professionally.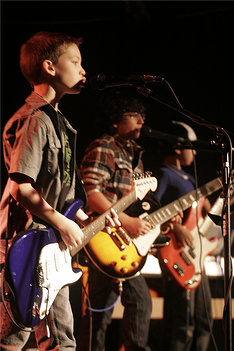 9. Early morning and lunch time lessons for home schoolers, retirees, college students and working professionals.
Since we are one of the largest schools in DFW, we are able to be a 'full service' music school. This allows us to offer lessons as early as 9 a.m. and we see many students between the hours of 11 a.m.-2 p.m. If you are a home school parent, retiree, college student or working professional who has a flexible schedule, take advantage of our early morning and lunch time lesson spots.
10. Locations in Fort Worth, Southlake and Keller/Watauga area.

Fort Worth Location: Due to its central location, our school is convenient to all areas of Fort Worth. Close to Guitar Center and Lone Star Gymnastics where you can drop off your kids and you will find great shopping and dining.
Southlake Location: Right in the heart of Southlake the 280 complex is kid central and offers Emler Gymnastics, Southlake Gymnastic, Spanish Schoolhouse and much more. This location is convenient to grapevine, colleyville and Trophy Club as well.
Watauga/Keller Location: Located off Watauga Rd near 377. Big Blue and Orange Building.
We are located in a cozy neighborhood community. This location is like home to most parents. Curly up on one of our 5 couches or stop by at Starbucks a rocks throw away.
11. Month to Month lessons.
Creative Soul does not require semester minimums for lessons for private lessons. Every student here is on a month-to-month basis.
It's easy to take the next step:

Lessons are first come, first serve
so contact us today to arrange your first lesson!
Learn to Play Guitar, Drums, Bass, Piano, or Sing
Our team of music instructors are committed to innovative teaching and are here to serve you and your family! Whether you enjoy playing Rock, Popular, Folk, Blues or Jazz, if you've got the passion to learn, we've got the motivation and talent to teach you.
Whether you are looking for vocal lessons, guitar lessons, piano lessons, drum lessons or want to participate in one of our Rock Band programs, we are the local music school for you and your children. At Creative Soul School of Modern Music, we offer both private music lessons as well as semi-private musical classes. You choose, we teach!
Creative Soul encourages students from all over the Dallas/Fort Worth metroplex who are interested in a music school that promotes a fun learning environment, while instilling confidence, discipline, and recognition to give us a try with a complementary free first lesson. If you decide we are a great fit for your needs, we offer flexible classes that work around your busy schedule. We want to ensure our students are successful in whatever musical endeavor they wish to explore.
We know as a parent, choosing a music school for your children can be a daunting task. We want to do our best to put your mind at ease and answer any questions you may have. With three conveinent mid-cities location, we have a number of students from all over the DFW area that join us weekly. Please contact us at any time, as we want to be the place for your children to experience how music can change your life.
Founder, Casey Thomas, from Keller Tx, began his learning of music later in life at age 19, but through lots of determination to practice and classes at the prestigious music program at the University of Texas, he grew his skills to open his first piano studio in Seattle, WA returning back to Texas in 2006 with dreams to open a music school for ALL ages and Instruments. To build a community space for learning that wasn't available in his childhood for the public. With his second school opening in 2012 in Fort Worth, Tx & his third in 2016 in Southlake, Tx he's truly "living the dream" of helping teach others "it's never too late to learn and enjoy music at any age or coming from any skill level."
Learn. Jam. Create.