Summer Music Camps
For Ages 7-17
SPECIAL $199/WEEK SUMMER CAMP OFFER JANUARY 2018 ONLY!!!
(HALF OFF!!)
Reserve your spot today!!
Our Summer Music Camps are a one week mixture of everything we do all year!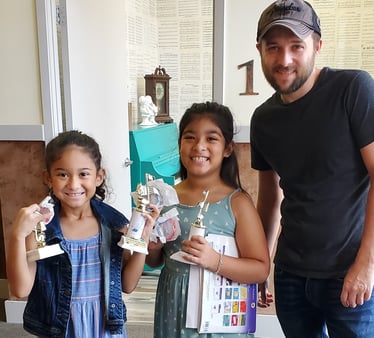 Students who attend our summer camps will learn how to:
...all in one week!
Students will also receive musical instruction on their instrument of choice in a fun, supportive, rockin'-out, time-of-your-life camp led by our incredibile instructors! No prior experience is necessary!
HOW OUR MUSIC CAMPS WORK...
In this full day, one week camp, students attend "Band Rehearsal" where they will learn a hit cover song and write a song with their new band. There will be a performance at the end of each weeklong session (see session dates below).
Our music instructors say: "Music Camp is equivalent to 3 months of Private Lessons packed in one exciting week! It's a great opportunity for students to learn fundamentals and get our BAND EXPERIENCE!"

Skills You Will Learn:
• Play in a Band & Perform for Family and Friends
• Write and Develop songwriting skills
• Increase individual Fundamental skills on the guitar, drums, piano, voice, bass, and more!
• Gain valuable industry insight
• Learn what it takes to Succeed as a musician
• Learn from Experienced Working Professionals
• Learn On-stage Performance Styles
Choose your Instrument:
* Guitar/Bass
* Keys/Piano
* Drums/Percussion
* Voice
* Horns
Summer Music Camp 2018

RESERVE YOUR SPOT NOW FOR EARLY BIRD DISCOUNTS!!

Register
Sessions
Ages
Day/Times
Tuition
Enroll


Fort Worth:

June 18th-22nd

July 9th-13th

July 23rd-27th

New! Aug 6th-10th

Keller/Watauga:

June 18th-22nd

July 16th-20th

New! Aug 6th-10th

Southlake:

June 25th-29th

July 9th-13th

July 30th-Aug 3rd

7-17yrs
Mon-Thursday 9-3pm
Friday 9-5pm
Performance Friday 5pm

$399

*Includes Music Video
*Full Tuition required at Registration. 30 Day Installment Option Available. Payments are non-refundable. Camp Session reservations are required, transferable until May 31st, and subject to availability.*
Extended Pick up Option until 5:30pm ($100/week additional fee)