Private Lessons: One-On-One Instruction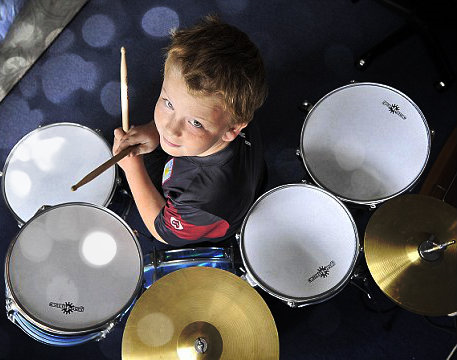 Private lessons are one-on-one music classes where the Instructor plans the lesson curriculum based on the individual students' learning and interests in music. The first day you come to your private lessons, the teacher will develop your lesson plan that is tailored specifically to your interests and goals. The Instructor will assess the students' current ability and help motivate them to the next level in their musical instruction.
If the student is co-enrolled in a Band, the Instructor can specifically work alongside with the Band curriculum. This provides the student the opportunity to gain more technical facility, and therefore, improve confidence in their Band class as well.
Students involved in our Private Lessons: One-on-One Instruction will perform twice a year on our live stage venue, fully equiped with amps, microphones, drumsets, and stage lighting. Visit our full calendar for performance dates.
During private lessons we have the opportunity to record each student's musical accomplishments, (i.e. new songs and technical abilities). This is great for memories and also allows the parent and or student to follow their progress while attending lessons.
INSTRUCTION OFFERED IN: Guitar, Piano/keys, Voice, Drums, Bass, Saxophone, Violin, Horns & Harmonica. Also, Songwriting, Recording, Performance based Instruction available.
Private Music Lessons
One-on-One with Instructor


Register
Class
Ages
Day/Times
Next Steps

Enroll
Private Music Lessons
All Instruments-Guitar, Piano, Voice, Drums, Bass. All ages and skill levels.
4 through
adult

Flexible Scheduling during hours of:

Mon-Fri 11am-10pm Saturdays 9-5pm

Register Online & Front Desk will contact you to set up day/time best for you.