Welcome to Creative Soul's Keller Watauga Music School

The Creative Soul School of Music Keller/Watauga location offers exceptional music lessons for an array of music lessons. What instrument do you want to learn, guitar, piano, voice, drums, bass guitar, or violin? Whatever instrument you want to learn Creative Soul in Keller/Watauga has an instructor and a lesson plan for you.
Music Lessons Offered:
Other: Trumpet, Percussion, Ukelele, Flute, Group Band & Group Music Classes
Contact Us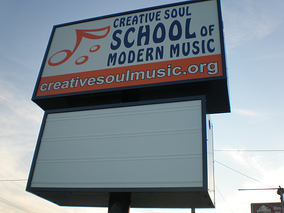 5633 Watauga Rd, Watauga, TX 76148

Tel. (817) 485-7464
Directions
Click here for Google maps
Located near the intersection of Watauga Rd and 377. Big Blue Building--can't miss it.
Instructors
Check out our amazing instructors!

Hours of Operation
Mon – Friday: 8am - 9pm
Sat: 8am – 5pm